Category: Harry Hoag News
May Newsletter
Volume 35 | Issue 9
Upcoming Events | Free Summer Meals | Sports News | Students of the Month | Unified Basketball | Student Council Honored | Global Students Help Animals | Fifth-Grade Science Student Makes a Discovery | Veterans' Spring Cleanup | Third-Graders Enjoy Painting Class | Team Tech Interviews Local Reporter | Eighth-Grade Round-Up | Try Me Days at Harry Hoag
Upcoming Events
June 6 – High School Awards Night – 6:30 pm
June 7 – Jr./Sr. High School Moving Up Day
June 12 – Board of Education Meeting – 7 pm
June 26 – Baccalaureate – 7 pm
June 29 – Graduation – 10 am
July 1 – First Day of Summer Meal Program
Free Summer Meals
All kids and teens aged 18 and under are eligible for free breakfast and lunch this summer, at the Harry Hoag Elementary School. Breakfast will be served from 8:15-9:15 a.m. and lunch will be served from 11:30 a.m. – 12:45 p.m. All meals must be eaten at school and supervision is provided.
Sports News
The NYS Public High School Athletic Association recently announced its spring Scholar-Athlete Team Award winners. The varsity Fort Plain teams honored were: Softball, Baseball, Girls Track & Field, and Boys Track & Field.
*The annual district spring athletic awards ceremony will be held on Friday, June 7th at 6:30 in the Jr/Sr High School Auditorium.
Students of the Month
Congratulations to the Students of the Month for April:
Gavin Souza – Grade 2
Sean McGuire – Grade 3
Owen Castellano – Grade 5
Brooke Brown – Grade 6
Gabriella Calhoun – Grade 6
Tristen Morey – Grade 6
Kaedan David – Grade 7
Natalie Thibodeau – Grade 8
Noah Norton – Grade 9
Troy Butler – Grade 10
Lauren Weinberger – Grade 11
Jenaya Aponte – Grade 12
Unified Basketball
Applause and cheers from a very enthusiastic audience filled the gym on May 9th, as the Fort Plain High School Unified Basketball team took on Gloversville for the annual in-school game.
The Unified Sports League is sponsored by the NYS High School Sports Section V and the Special Olympics. The Unified League combines students with disabilities and student-athletes of similar age and ability. The program aims to provide a competitive high school sports experience for students with varied disabilities to be able to participate in.
The Unified League goal of "teaching sports skills to students with different abilities in a friendly, supportive, and competitive environment" was evident as the student audience fully appreciated the game, while both teams competing supported one another's players while still maintaining a healthy spirit of competition.
This is the third season for the Fort Plain HS Unified Basketball team, and they will face off against several local schools. The team is coached by Adam Cutspec, Geoff Snyder, Lisa Petty, and Linda Cole.
Student Council Honored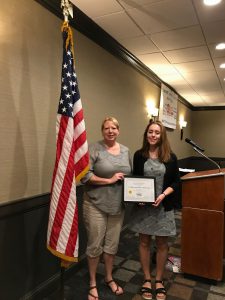 The Jr/Sr High School Student Council was one of the community partners recently honored by the Fulmont Community Action Center. The Student Council was recognized for conducting a food drive in December and donating over 1000 cans of food valued at over $1,000. Pictured are Student Council advisor Mrs. Lisa Trembley and Student Council secretary Willow MaGinnis.
Global Students Help Animals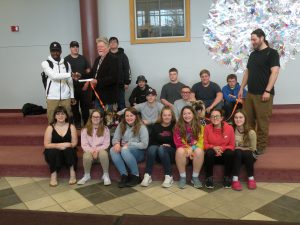 Students in Mr. Will Ryan's 5th period Global Studies 10 class recently took on a service project, by conducting a fundraiser to benefit the Ayres Memorial Animal Shelter. The students collected spare change during the month of Aril, collecting $100. They selected the Ayres Shelter because of the notable work that they do, the many programs that they have, and their excellent success rate with placing dogs and cats into the perfect "fur-ever" home. Pictured is the class presenting their fundraiser check to Ayres president, Mr. Joe Rosemyer.
Fifth-Grade Science Student Makes a Discovery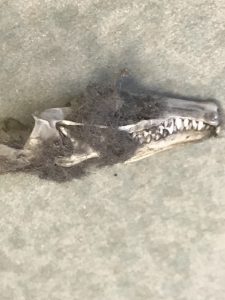 Each spring, students in Mr. Hanifin's fifth-grade science classes dissect owl pellets. This year, student Bradley Rumrill came across a big surprise in his pellet! Owls cannot chew their foods. They swallow their prey whole, and it passes directly from their mouth to their gizzard. Any material that cannot be broken down, or digested, is left behind and packed into a tight pellet that the owl then spits up.
Owl pellets contain bones, teeth, claws, and feathers. Because owls swallow their prey whole, often entire skeletons and intact skulls are found inside of the pellets. These give researchers clues as to where the owl has been living and hunting. Fort Plain students typically find the bones and fur of mice, moles, and voles inside of the owl pellets. Sometimes, they find feathers and tiny bones from very small birds that the owls have eaten. Occasionally, they may find the bones of frogs, toads, and snakes.
Fifth-grader Bradley Rumrill recently found the intact skull of a creature that none of Mr. Hanifin's students have ever seen before. The skull features a long, pointed snout and a series of very sharp, pointed teeth. Information provided by the owl pellet company shows that the pellets our students received were collected in the state of Washington, in the northwest region. Research by the students has led them to their best guess – a Northern Long-Eared Bat. Take a look at the mystery skull!
Veterans' Spring Cleanup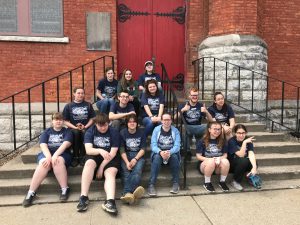 On Saturday, April 11th the Jr./Sr. High School Student Council sponsored a group of sixteen students and two adults, helping the Montgomery County Youth Serving Veterans by cleaning lawns for nine different houses in Fort Plain. The students raked and bagged from 8:00 a.m. – noon, and then joined other volunteer groups for a lunch of pizza and wings. Many of the veterans that the teens helped came out to see the students, thanking them for giving of their time and for their hard work. The volunteers were: Caleb Cochran, Jenna Reese, Mackenzie Wintermute, Amber Kleitgen, Cassandra Harwood, Alanis Rogers, John Kiernan, Gulum Demir, Hayley Hart, Robert Bowley, Grace Hoffman, Willow MaGinnis, Talia Narzymski, Sinem Demur, Juan Hernandez, Lauren Weinberger, Mrs. Linda Cole and Mrs. Lisa Trembley.
Third-Graders Enjoy Painting Class
Mrs. Sweet's third-grade class recently enjoyed a professional painting lesson with Kathy Canastar, from Little Falls. Kathy has trained under Wilson Bickford, a well-known painter from Gouverneur, NY. Two other volunteers, local artists Lois Scanlon and Jean Ronan assisted the students. Each student created a beautiful sunset, with a tree and silhouette of a giraffe. The subject of the paintings was chosen to complement a current topic of the third graders reading and science lessons.
Tech Team Interviews Local Reporter
Harry Hoag Elementary's Team Tech students, those who work on the school newspaper, recently interviewed "The Leader Herald" newspaper reported Briana O'Hara. The students asked Ms. O'Hara questions about her education, why she decided to become a journalist, and what training led her to the position that she currently holds. She talked to the students about what makes a quality article, how to go about asking questions when interviewing someone, and what type of research needs to be done before writing about an event or topic. The Team Tech students were able to share their latest newspaper edition and talk about how much fun they have with the design, layout, and process.
Eighth-Grade Round-Up
The eighth-grade students have had a busy spring, with many special projects and activities keeping them busy! Students thoroughly enjoyed their latest interdisciplinary unit of America in the 1920s, learning about everything from fashion and fads to favorite foods, moments in history, and cultural experiences. On the Science-Technology-Engineering-Math (STEM) front, the students built and launched their own model rockets, learning about the many aspects of propulsion and flight. Family Math Night was enjoyed by the many families in attendance, who came together to solve puzzles and play games that integrated math skills. Several of the class's girls attended the Women of STEM conference at FMCC, learning about education and careers. Finally, students traveled to Saratoga Springs to participate in the challenging obstacles at the Saratoga Ninja Lab. Following that experience, they visited historic Congress Park in Saratoga, meeting with retired history teacher Dave Patterson to hear about the amazing history of the Congress Park area.
Try Me Days at Harry Hoag
Elementary SchoolCcook Dawn Surnear and her team have been bringing many new fruits and vegetables to the elementary students this year, through their "Try Me" days. Using the knowledge and recipes that they gained during Farm-to-School training this past summer, the kitchen team have prepared many dishes for kids to try, including strawberry spinach salad, monster pops, kale chips, blueberry soup, and turmeric cauliflower. Many students have enjoyed all of the great new tastes!
Post navigation