Refreshed HS library enhances student learning, collaboration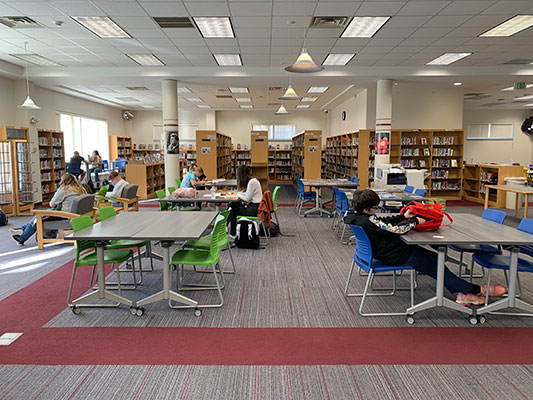 Visitors to Fort Plain Jr./Sr. High School's library media center will find a brighter, more welcoming and functional space for student learning, collaboration and meetings.
Tapping into American Rescue Plan funding, the district was able to purchase additional furniture for the library media center that is colorful, comfortable, lighter in weight and easily moved and combined to create a variety of learning, meeting and working spaces.
Existing furniture and shelving in the were rearranged to improve students' access to library resources, provide space for both individual study and group learning, and – combined with the new furnishings – create an environment that is more attuned to how students learn today.
"We wanted to restructure the library media center to be a space designed to embrace 21st century learning," said Fort Plain Superintendent Lauren Crisman. "Education should be collaborative. We want our students to learn vital communication skills and use multiple forms of literacy (media, technology, information) to think constructively about the learning tasks that they are asked to complete."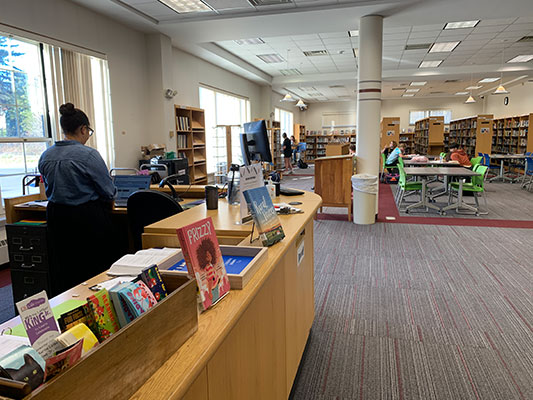 "Our library media center provides an inviting place for students to study, learn, read and explore," said High School Librarian Tariyka Chaulk. "Last school year, we rearranged the library space to make it more student-centered. By putting the desk off to the side, students are the first thing you see when you walk into the library.
"Although the room is just a giant square, we tried to create little pockets for different student gatherings. Large groups and classes can gather in the back. Pairs or individual students can sit at the high-top tables near the windows.
"We even have small conversation areas where student groups have gathered to plan or brainstorm school events. And just like every library, we have open tables for students to work on assignments. I hope the new layout will help students we don't see frequently feel more comfortable in the space."
The updates and changes to the library media center are a hit with students, who find it to be a more engaging space that is better suited to their needs and learning styles. "I like the layout and color scheme," said Kristin Sanders, a 12th grade student. "The chairs are a lot comfier, and the furniture looks more modern. I really like the tall tables by the window."
"I really enjoy the new furniture in the library," said fellow senior Madison Delgado. "Everything is comfy, yet still allows students to be productive. The tall table and chairs are my favorite so far."
Tenth grade student Gracelynn Rice said, "The tables are smooth for writing and the chairs are colorful and comfy. There's more space to work. The tall tables and chairs are cool, too."
Cameron Mussey, a 10th grade student, added, "I like how you can move all the furniture easily, and the tables are nice. I like how they're square, too, so you can fit more people. The new chairs are comfy, too."
"It's so fun! The chairs are very comfy and the desks are great for writing," said Lyrique Busch, an 11th grade student.
The library media center is located just past the high school's main entrance, with large windows that let in the sunlight, ample space and an extensive collection of books, reference materials and online resources for students and staff. For more information, visit the library and media center webpage.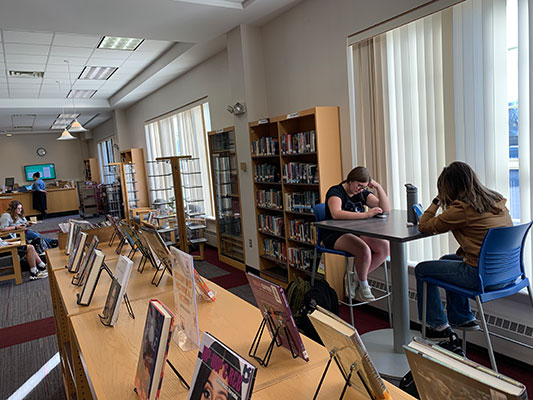 Update Jan. 11, 2023
In the photos below: More furniture, including moveable tables with storage and cabinets have been added to the library.