New HS parking loop offers safety, efficiency for students, families, staff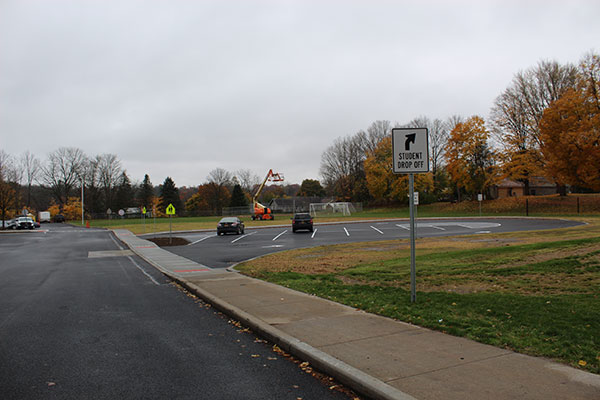 As part of the district's capital project, work has been completed on a new parking lot and traffic loop at Fort Plain Jr./Sr. High School. Located just beyond the tennis and basketball courts, the new lot and loop provide families with a safer and more efficient way to drop off and pick up their students, as well as additional spaces to park.
Traffic guards are helping to guide drivers as they enter and exit the parking loop and are ensuring that students safely use the cross walk.
After entering the campus from Clyde Street, parents/guardians should follow the road to the new parking lot and loop, where they will find a number of spots to park, as well as space line up safely, away from the bus loop, while they wait for their students. The new loop and lot will ease congestion on local roads and at the school, allow bus traffic to flow in and out of campus, and most importantly, increase student, staff and family safety.
Reviews of the new loop have been positive to-date, according to High School Principal Deborah Larrabee. "One parent commented she 'loved the new parent loop. It was so easy and stress free.' She said she was in and out with no problem at all!"