How instruction will continue if school is closed due to COVID-19
In the interest of planning ahead, the district would like to inform Fort Plain families about how instruction will continue to be provided if one or both of our schools are required to close due to COVID-19.
If school is closed, instruction will continue to be provided remotely/virtually to students according to a schedule set specifically for the Jr./Sr. High School and a schedule set specifically for Harry Hoag School. Information about these schedules follows below.
At Fort Plain Jr./Sr. High School, instruction will continue to follow the same schedule as when school is open, but will be provided remotely to all students. This will occur regardless of the length of the school closure.
Letter from High School Principal Dr. Deborah Larrabee, November 2020:
Dear FP Junior-Senior High School Families,
We are happy to have students in our classrooms and cherish the in-person learning days we have with them. We continue practicing social distancing, wearing masks, washing hands and learning to support each other so that our blended learning model may continue. However, if we need to switch to Remote Learning we want you to be prepared. We have created a schedule to ensure continuity of learning for our students. Please see the schedules below.
For a short term closure (24 hours to two weeks), students will follow their regular classroom schedule of periods one through eight daily with classes beginning at 8:00 a.m. and ending at 2:38 p.m. Teachers will provide content and instruction to students daily via Google Classroom.
For a long term closure (beyond two weeks), students will follow their regular classroom schedule of periods one through eight, but times will be shortened to help limit daily screen time. Classes will begin at 8:00 a.m. and end at 1:00 p.m. Instruction will be provided daily by teachers via Google Classroom. Office hours and extended class time will be 1:00 p.m. to 3:15 p.m.
Junior- Senior High School Shortened Schedule:
Period 1: 8:00-8:33
Period 2: 8:35-9:08
Period 3: 9:10-9:43
Period 4: 9:45-10:18
Brunch Break: 10:19-10:49
Period 5: 10:50-11:23
Period 6: 11:25-11:58
Period 7: 12:00-12:33
Period 8: 12:35-1:08
1:15- 3:15: Office Hours, Extended Class, Meetings
Our students are accustomed to having a daily schedule that they can refer to throughout the day. The remote learning schedules were created to provide predictability and grounding for your child during a time that feels very different to them and us. To help support your child, we recommend that you:
• Make sure your child has a consistent physical space for work
• Make sure that your child keeps their Chromebook charged
• Encourage your child to contact their teachers with questions
• Check Google Classrooms daily for each day's assignments
• Observe work hours for teachers; they will respond to your emails within 24 hours
• Think about how to manage technology at home, to minimize distractions and maximize learning
The home-school partnership is essential to making this a successful year for your children. Please feel free to reach out to us with any questions. Thank you for your continued support during these uncertain times.
Best regards,
Deborah Larrabee, Ed.
At Harry Hoag School, instruction will be provided remotely according to one of two schedules: a schedule for short-term closures lasting 24 hours to one week, or a schedule for long-term closures lasting beyond one week.
Letter from Harry Hoag Principal Lauren Crisman, November 2020:
Hello Families of Harry Hoag!
This letter serves to give you information regarding Harry Hoag's intentions for instruction should we be asked to transition to an all remote (virtual) model for any period of time throughout the school year. If the District transitions to an all remote model for any amount of time, the hybrid Day A/ Day B cycle will not apply to elementary students. All elementary students should plan to attend remotely as outlined below.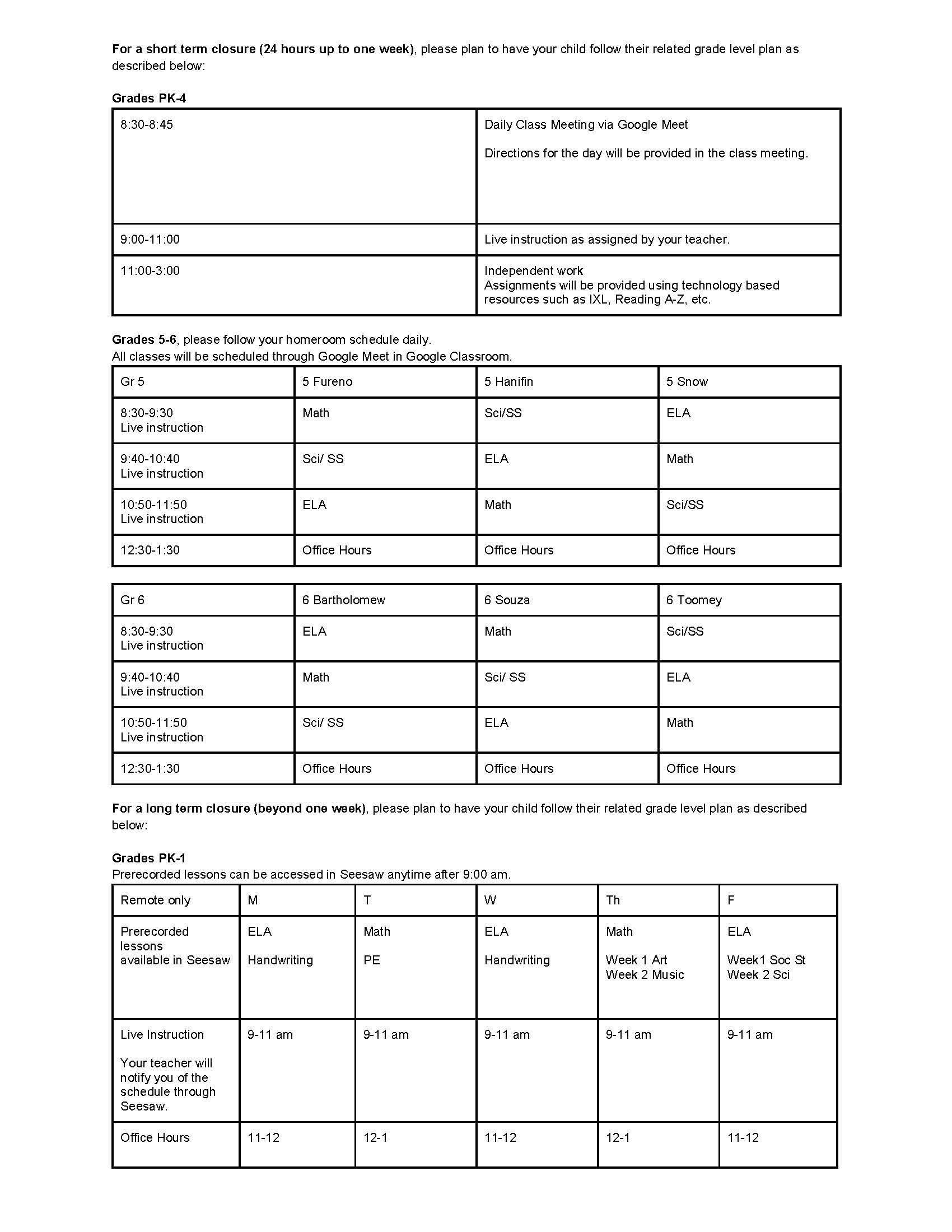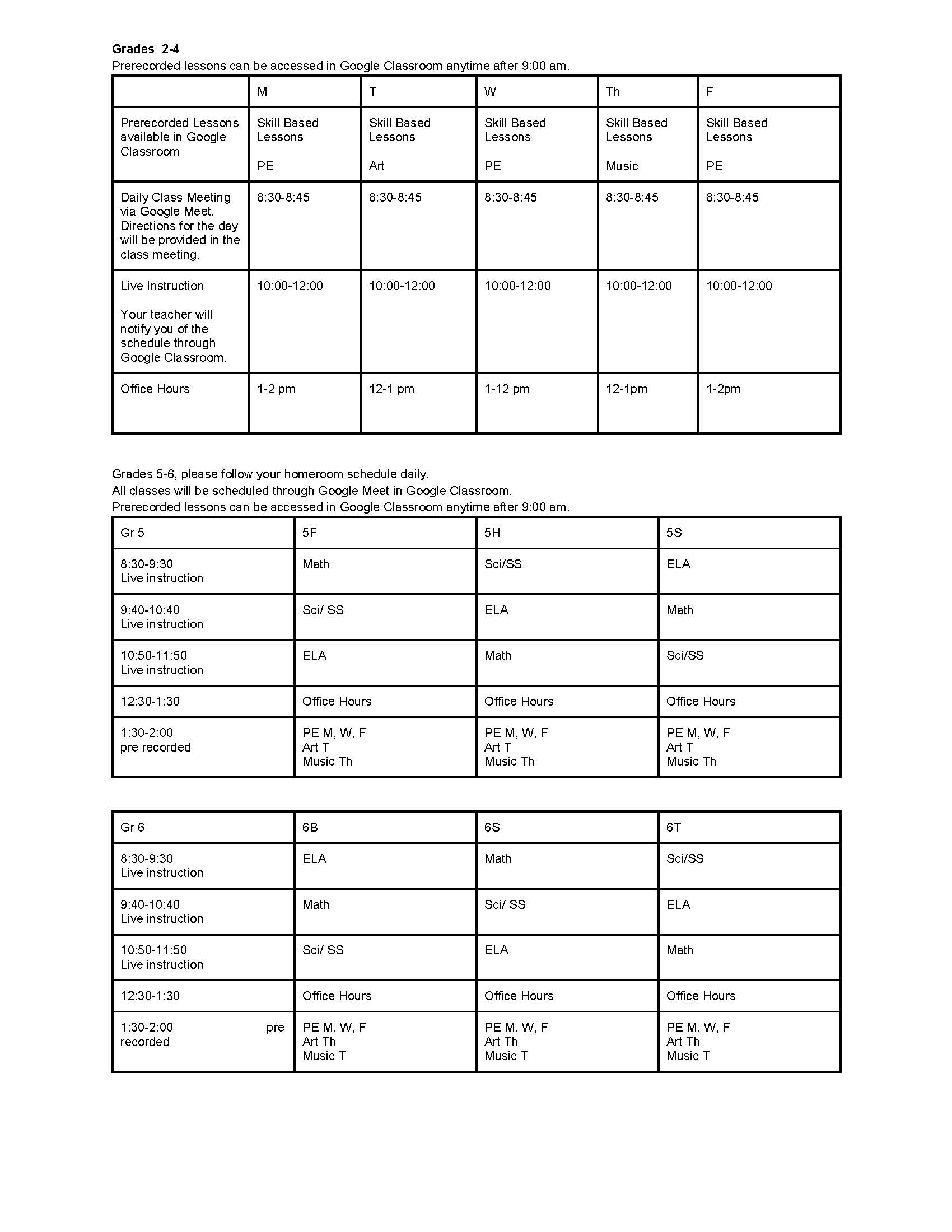 Please feel free to reach out with any questions or concerns. Thank you for your ongoing interest and investment in your child's academic success!
Proud to be your Principal,
Mrs. Crisman