Food science class donates meals to food pantry
'They learned about nutrition, but they also learned about helping their neighbors.'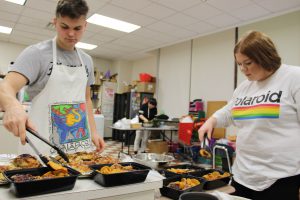 A lesson about nutrition in a food science class at Fort Plain Jr./Sr. High School inspired students and their teacher to prepare and donate meals to a local food pantry.
Using an anonymous monetary donation, Cory Cooley's students recently cooked 40 nutritionally balanced and portioned meals that they donated to the food pantry of the Fort Plain Reformed Church.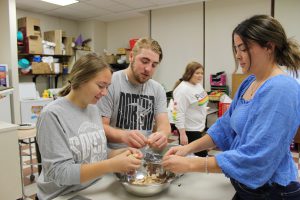 "This project is important to me because I want to help my community," student Jenna Paddon said. "When I see people in need, I want to help, because if it were me, I wouldn't want to go through hardships by myself."
The project was inspired by a discussion in class about food security, or the availability of food and one's access to it. Cooley invited Pastor Nancy Ryan to the class to engage in a discussion about food security in the Fort Plain community. They talked about food needs, especially for the very young and the elderly; the things that may hinder people from going to the food pantry (pride, lack of transportation or immobility); and factors that could prevent people from using the food the church offers (lack of a kitchen facility or unavailability of pots and pans).
Ryan shared with the class the vision of the church to offer food that could be heated in a microwave, easily opened, and as nutritious as possible.
"Food that you cook in a microwave isn't usually nutritious, but they took up the cause," Ryan said of Cooley and her students.
Students chose recipes by considering their freezability and taste. They chose three meals: barbecue chicken with sweet potatoes and asparagus, roasted vegetable macaroni and cheese, and chicken and vegetable soup with cornbread.
Student Sophie Claus said the project hit close to home.
"My family went through a phase where we had to get food from the food pantry, so I know how people who use the pantry feel," she said.
"It's important for the meals to be nutritionally balanced because the people we are helping might not know when their next meals are," student Gabe Travis said.
Ryan said she's eternally grateful to Cooley and the students for including her in the project. One of the things that struck Ryan about the project was how the class prepared samples for her and another class so they could all taste the recipes before choosing them.
"The sense that I had was of the commitment, not just of Cory Cooley, but of these kids to do something beyond themselves," Ryan said. "They took their learning to the street and said 'Here's what we can do with what we can learn.' They learned about nutrition, but they also learned about helping their neighbors, and that really warms my heart."