Book Speed Dating event fosters a love of literature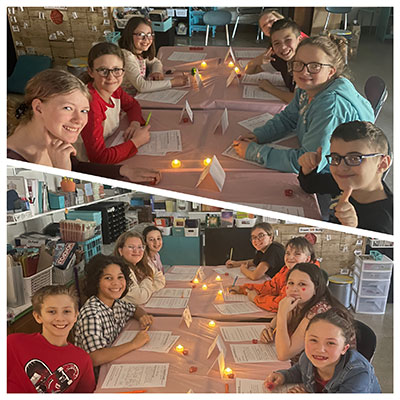 Students in Mrs. Bartholomew's 6th Grade English Language Arts classes had an opportunity to fall in love with new books during a Book Speed Dating event on Valentine's Day.
"Students walked into a magically transformed room on Valentine's Day," Bartholomew said. "They each had chosen their favorite book that they've read this year and spent the class convincing classmates why they should read that book, too!"
The students were paired up for four minutes at a time, asking questions such as, "Tell me about yourself. What are your character's character traits? What is one thing that really makes you stand out from all the other books on the shelf?"
"Students rotated through the room, meeting many new books," Bartholomew said. "At the end, they voted on the book they were most interested in reading next for independent reading, and the winners won a prize!
"All of the conversations between students were filled with incredibly rich literary analysis. It was a great day filled with fun and learning. Great job 6th grade ELA!"