Category: Harry Hoag News
WATER MAIN BREAK UPDATE (8:25 p.m.): The Fort Plain Schools and Office will be CLOSED for January 4, 2018 due to the water main break near Harry Hoag Elementary School.
—–
UPDATE (8 p.m.): Crews are still working on fixing the pipes near Harry Hoag Elementary School and a decision about tomorrow's school day has not been made yet.
We aim to have a decision made as soon as possible. We understand the concern and need for this information.
Keeping students safe and comfortable in the classroom is our top priority.
—–
UPDATE (5 p.m.) No hard updates yet about tomorrow, but a great thank you to the Fort Plain DPW for working on a cold night like this one.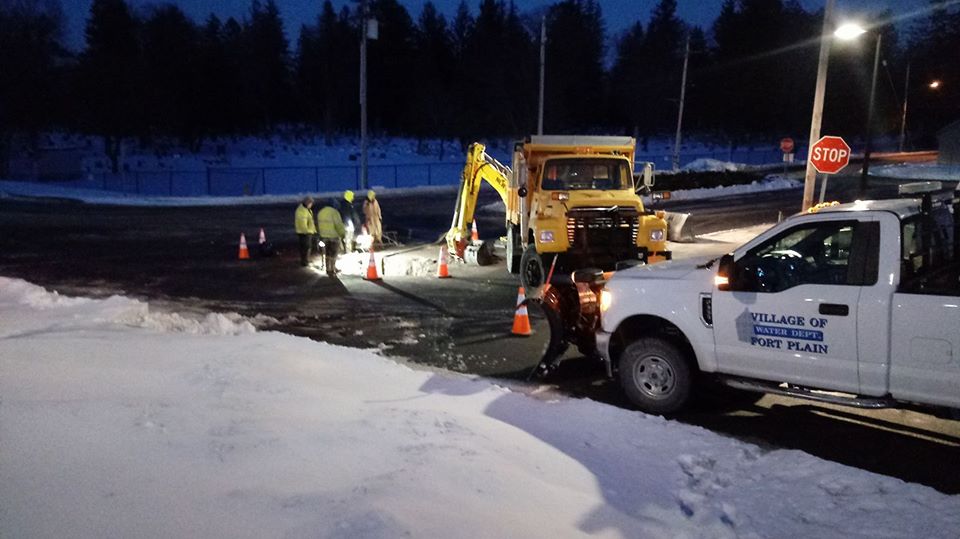 —–
WATER MAIN ISSUE UPDATE (4:30 p.m.): We would like to thank all of the students, teachers, and staff for productively working through today's issues.
School officials are speaking with town workers shortly about the status of the main break and what the best plan for tomorrow will be.
We encourage everyone to continue to follow us here or on our free messaging app (Remind) to stay up to date on tomorrow's school day.
—–
UPDATE (12:30 p.m.): Regular dismissal is still planned at both Harry Hoag and the Jr./Sr. High School.
Both the modified and JV girls basketball game have been postponed.
All after-school activities in Fort Plain buildings are canceled.
The bowling match vs. Middleburgh is still on at Iroquois Lanes
—–
There has been a water main break outside the entrance of Harry Hoag Elementary school.
Students, faculty, and staff are safe. Running water to both the elementary school and the high school buildings has been shut off at this time while local public works departments and the facilities staff work on the problem.
Portable restrooms are on the way to both schools to handle restroom needs and hand sanitizer is being distributed throughout both building for those that need it.
Further updates about both the water and dismissal will be given as soon as possible.