Welcome Deputy Nicholas Manginelli—Fort Plain's new school resource officer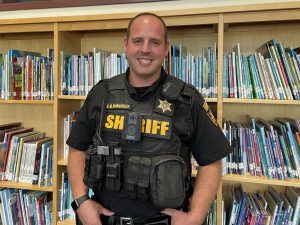 Beginning this September, Deputy Nicholas Manginelli of the Montgomery County Sheriff's Office will be joining the Fort Plain Central School District team as our new school resource officer (SRO).
Deputy Manginelli is already a familiar presence in our schools and for many of our students—having led our on-campus D.A.R.E. program for sixth graders the last two school years.
In this new role, Deputy Manginelli will be on-campus each school day, from arrival to dismissal. He will spend his days visiting our schools and classrooms, getting to know our students and staff and offering an extra layer of watchfulness and support. In the event of an incident that requires law enforcement intervention, Deputy Manginelli will be ready to assist as a first responder and be an on-campus connection to the sheriff's office and others.
The school district has contracted with the Montgomery County Sheriff's Office for this service for the 2023-24 school year.
What is a school resource officer (SRO)?
The primary focus of the school resource officer program is to enhance the safety and security of the learning environment for students, staff, visitors and others in our school community.
Having a regular law enforcement presence in our schools will give our students the opportunity to learn first-hand about the work of law enforcement officers and get to know them as friendly and helpful community partners.
In this role, Deputy Manginelli will also be available for administrators, staff and students to assist in defusing and solving problems before they negatively impact the learning environment or the health, safety and welfare of the students and staff.
Deputy Manginelli has been specially trained for this role of school resource officer.
"Having Deputy Manginelli as part of the Fort Plain Central School district team will support us in our goal of providing a safe and welcoming learning environment across our campus and building important community connections. We are excited for this new partnership and looking forward to working together with Deputy Manginelli for the safety of our schools and students," said District Superintendent Lauren Crisman.
"I am looking forward to this new role and being able to connect with kids and making sure they feel safe at school so they can learn and have fun there, too," added Deputy Manginelli.
About Deputy Nicholas Manginelli
Deputy Nicholas Manginelli is a life-long resident of Montgomery County. He grew up in Fonda and graduated from the Fonda-Fultonville Central School District.
Deputy Manginelli attended Fulton Montgomery Community College and holds a degree in criminal justice. He has worked in law enforcement since 2009, first as a corrections officer and, since 2013, as a deputy with the Montgomery County Sheriff's Office.
Along with his work as a law enforcement officer, Deputy Manginelli is an active member of his community and volunteers as a coach for many local youth sport teams.
Asked why he chose to become a law enforcement officer, Deputy Manginelli answered "to help people."
"I was a Boy Scout and an Eagle Scout and this is something I was always taught by my family to do. This is important to me," Deputy Manginelli said.