VFW honors winning student essay authors, teachers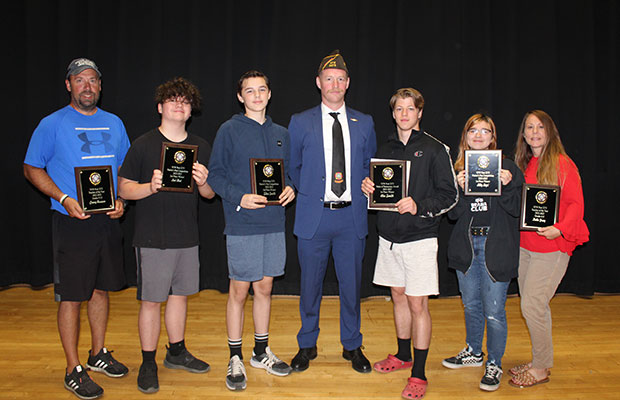 VFW Post 3275 Commander Thomas Elwood recently visited FPHS to honor the winners of the VFW's annual Patriot's Pen and Voices of Democracy essay contests. Commander Elwood also presented two Teacher of the Year awards to Fort Plain educators.
Congratulations to our student essay winners:
Patriot's Pen Essay Contest- Theme: My Pledge to Our Veterans
1st place – Lilly Lapi
2nd place – Levi Hext
3rd place – Silas Smith
(All are 8th grade students)
Voices of Democracy Essay Contest – Theme: Why is the Veteran Important?
1st place – Alex Smith (11th grade)
The winning essay writers read their essays in front of the entire 8th grade.
Kolbe Gray was honored as the 6th-8th grade VFW Teacher of the Year, and Casey Russom was honored as the 9th-12th grade VFW Teacher of the Year.
Congratulations to all!