Tech & Design class puts popcorn machine back in business, in grand style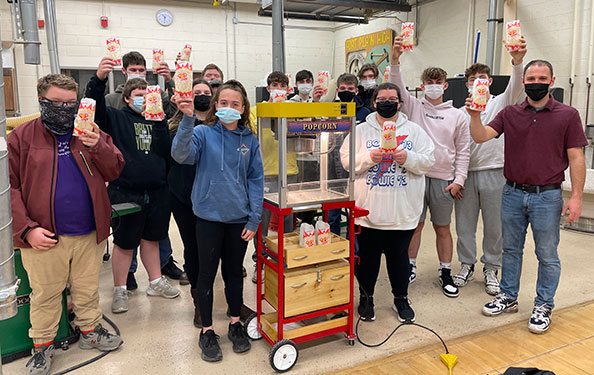 The FPHS Topper Store popcorn machine is back in business, thanks to some Hilltopper teamwork and very talented students.
"Our popcorn machine was in need of a cart," said Wendy Stokna, business education teacher and work-based learning coordinator. "We had the machine, but no safe way to transport or display merchandise.
"Students from Mr. Heroth's Tech and Design class solved that problem by designing and creating a cart for the popcorn machine. After listening to design requests, his students went to work developing the design, submitting the design for approval, and then putting the design into production," Stokna said.
"We are now thrilled to have the machine back at the Topper Store!"
The Tech and Design students built the cart from the ground up – fabricating it from raw materials and finishing it with bright red paint. The completed, custom-designed cart holds the popcorn machine securely, can be moved easily and features fitted, on-board sliding trays and a storage cabinet for displaying the popcorn and storing supplies.
Stokna noted that Work-Based Learning students benefit from working at the Topper Store when it is open and from working on all of the behind-the-scenes activities, including making and bagging popcorn, cleaning the machine, staffing, tracking sales, keeping store records, and promoting sales.
"Thank you Mr. Heroth and Tech and Design Students – great job!"