Talia Narzymski is first FPHS student to win National Rural & Small Town Recognition Award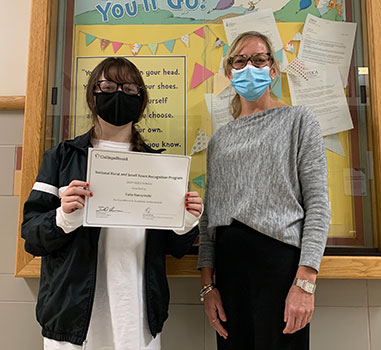 Talia Narzymski is Fort Plain Jr./Sr. High School's first-ever recipient of the College Board's National Rural and Small Town Recognition Program Award. Talia, a senior, is being honored for excellence and academic achievement, based on her grade point average and PSAT score.
"Talia is a super kid and a great student," said FPHS School Counselor Colleen Cushing. "This is the first time one of our students has won this award, which recognizes academic achievement in school and outstanding performance on the PSAT.
To qualify for the College Board's National Rural and Small Town Recognition Program Award, a student must score above a certain level on the PSAT and achieve a grade point average of at 3.5 or higher. Students work with their school counselors to apply.
Talia said she plans to study psychology at Siena College after graduation, with a career goal of working in "some form of psychology or therapy and applying that degree in criminal justice. After Siena, I definitely plan to attend graduate school to earn a master's and then possibly a doctorate.
"I've been interested in the field since the beginning of high school, and taking UAlbany University in the High School psychology and sociology classes here at Fort Plain confirmed it for me," Talia said. "I'm taking forensics right now, and there are so many job options and branches in the career field.
"English and forensics are my favorite classes, and I also loved history classes," she said. "I wrote an English paper on the psychology of serial killers, and I love to do research. Maybe some day, kids will be reading my research." Talia enjoys creative writing during her free time, including working on projects with her younger sisters.
Talia's other interests include dance – growing up, she took dancing classes and "always wanted to be a famous singer and dancer" – and participating in theatre productions. "I hope to join the dance team at Siena and also act in theatre productions there," she said.
In announcing this year's honorees, the College Board said that students who receive the National Rural and Small Town Recognition Program Award "have accomplished this milestone during an immensely demanding period of their high school career. We couldn't be more delighted to share this great news."
The College Board created National Recognition Programs to "help address systemic barriers to higher education faced by underrepresented students," including those from rural and small town school districts. In addition to recognizing outstanding achievement, the awards provide students with an academic honor that can be included in scholarship and college applications and help connect them with a wider range of higher education options.
In the photo at top: Talia Narzymski with school counselor Colleen Cushing