Ethan Kilmartin achieves rank of Eagle Scout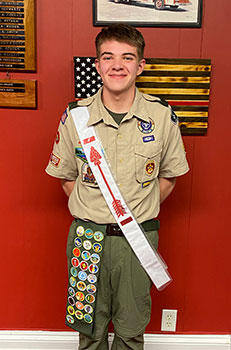 Friendship, leadership and experiencing the outdoors: all are benefits of achieving the highest rank in scouting, according to Eagle Scout Ethan Kilmartin. Ethan, a Fort Plain High School junior, officially became an Eagle Scout in December, 2021, capping more than 125 hours of planning, paperwork and hands-on community service that began during the summer of 2019.
For his Eagle Scout project, Ethan designed, built and installed new recycling bins in Haslett Park in Fort Plain and reconstructed the park's flower bed framing with upgraded timbers. "I knew I wanted to build the recycling bins since I was in Cub Scouts," Ethan said. "I saw a need for bigger bins and better placement in the park. For the flower beds, I tore out the old timbers and built a new frame on-site, with pressure-treated timbers. It's a good addition to the park and looks better."
Ethan will have been active in scouting for six years as of March, 2022, and is a member of Canajoharie Troop 5081. One of Ethan's favorite troop activities is summer camping at Curtis S. Read Scout Reservation in Brant Lake, NY, and he speaks highly of the overall scouting experience. Ethan also enjoys hiking, soccer and "is a big fisherman." His other hobbies include welding and woodworking.
As for future plans, Ethan is looking at colleges and plans to study environmental science, with a career goal of becoming a state environmental conservation officer. "It's interesting, it's not at a desk and I excel in the sciences," he said. "I'm very outdoors-oriented."
Congratulations Ethan!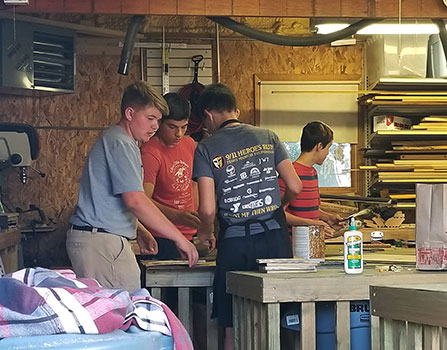 Ethan and friends work in his grandfather's shop in 2019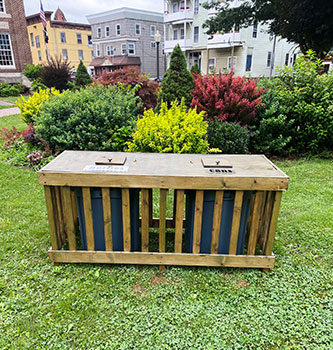 Above and below: Recycling bins built by Ethan for Haslett Park