Students' video published on Smithsonian website
It was also featured at one of the Smithsonian's traveling exhibits in Syracuse.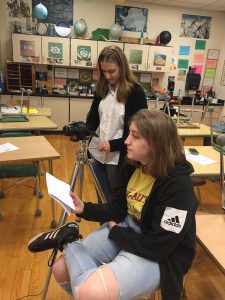 Fort Plain is on the map! A video created by Fort Plain Jr./Sr. High School students has been published on the Smithsonian Institution's website. It was also featured at one of the Smithsonian's traveling exhibits in Syracuse.
Students Grace Hoffman, Sarah Paradiso, Sophia Rogers and Willow MaGinnis created a video about the Erie Canal. They completed the project as members of the high school's Environmental Study Team. It's an extracurricular activity under the advisement of science teacher Lance Elliot.
Elliot brought the students to Syracuse this summer so they could see the exhibit and watch the video they created. It was most recently published on the Smithsonian website.
"It was so rewarding and mind-blowing to see our exhibit in Syracuse, and knowing it's on the Smithsonian website is so cool!" Paradiso said. "I mean, come on, it's the SMITHSONIAN!"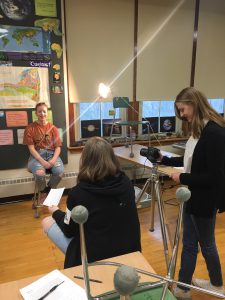 The Smithsonian has a traveling exhibit known as the Museum on Main Street. The program has a digital component known as Stories on Main Street. Together, they aim to "empower people to embrace their history and uncover their community's stories," according to its website.
Community members can submit audio stories, photos, text and videos about life in small-town America. To date, more than 1,200 people have saved their stories through the project. "These digital assets are preserved for future generations in a searchable Smithsonian database," its website says.
The Fort Plain video was submitted for the Water/Ways exhibit. The video explores the significance of the Erie Canal in the Fort Plain community. Students also highlight what they've learned by participating in the program.
"Every single waterway that we have here is part of the town history," Hoffman says in the video. "Anything to do with water has to do with Fort Plain."
The Environmental Study Team partners with the Schoharie River Center and annually conducts research on local waterways. Elliot described the team's work as citizen science, as the students gather data to help the research of professional scientists. The team creates a display and presents its findings at the Mohawk Watershed Symposium at Union College every year.
Elliot said the video project showed students an alternative way of sharing information.
"They learned how to get a point across in today's day and age," he said. "It showed them how to reach a wider audience."
Both Paradiso and Hoffman said the project helped them learn about video editing and how to use new software.
"I never thought the video would get this much attention, but I did put a lot of work into it so it's nice to know that it's going places," Hoffman said. "I don't think I've really basked in my accomplishment yet. I'm not sure when that will happen, but for right now I'm feeling generally pleased about the whole thing."