Sign up to audition, join crew for Drama Club's "Mamma Mia"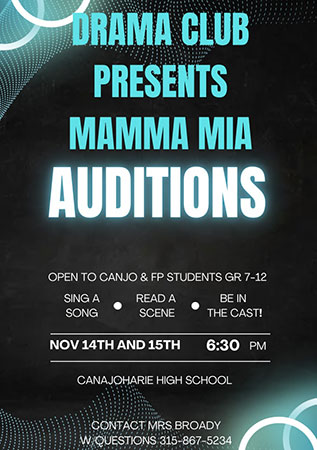 Sing a song, read a scene, be in the cast! The Fort Plain-Canajoharie Drama Club is holding auditions for their spring production of "Mamma Mia." Auditions are open to Canajoharie and Fort Plain students in grades 7-12 and will be held on Nov. 14 and 15 at 6:30 p.m.  at Canajoharie High School.
To sign up for one of the days to audition, contact Mrs. Lauri Broady at lauri.broady@fortplain.org or by phone at 315-867-5234. Students may also contact Mrs. Broady to sign up to be in the crew or tech team.
"Mamma Mia" will be presented at Canajoharie High School on March 24 and 25 at 7 p.m. and March 26 at 2 p.m. It is directed by Mrs. Broady and Will Ryan.
"This is considered a 'high school' show – we tell students it's Modified, JV and Varsity all on one team!" said Mrs. Broady. "All are encouraged to participate."