Paying it Forward . . . Literally
By Wendy Stokna –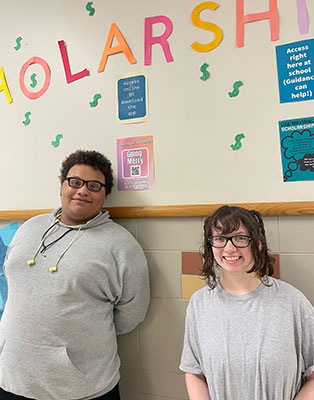 A popular country song by Tim McGraw, whose lyrics include the following, "Don't take for granted the love this life gives you / When you get where you're going, don't forget turn back around / And help the next one in line / Always stay humble and kind," personifies the latest effort by internship student Talia Narzymski.
After being the first student from the Fort Plain Central School District to receive the College Board's National Rural and Small Town Recognition Program Award, Talia realized that she could use her experience to help her peers win scholarships to help fund their education in times of growing economic concern.
Her internship experience through Mrs. Stokna's class was inspired by the recent video "Borrowed Future," directed by David DiCicco, which spotlights how staggering amounts of college debt have become a national concern. In order to do what she could with her knowledge of the process and as a student in a rural community, she set out to make a difference.
Her process began with conversations among teachers, her senior high school counselor and the development of student surveys. Her first step was sending out a survey to her classmates to understand their needs and where they might need support. (She thanks Mrs. Sacco for allowing her to do so during her class!)
With guidance from Ms. Cushing and Mrs. Stokna, Talia created a guideline for her classmates with helpful links and suggestions to assist them on their scholarship journeys. Seniors were given access to this through Ms. Cushing's Class of 2022 Google Classroom and you will find a link to it here as well: Guide to Scholarships by Talia, which includes Guide to Writing Your Scholarship Resume.
Two displays were created in the school, by the school counselors' office and outside of Mrs. Stokna's classroom, that contain QR codes and information about the following scholarship services: https://www.goingmerry.com/, https://www.fastweb.com/, and https://student.naviance.com/fpjshs. The posters in these displays are also displayed throughout the halls.
Talia hopes her fellow classmates discover that the application process is not as scary as it may seem, and that they can continue to apply for scholarships even after they graduate! She also puts emphasis on the importance of looking at every scholarship that is posted, as many students do not seem to realize that there are scholarships for just about anything, not just top academic scores or athletic ability.
Small amounts can easily add up. Talia is also hopeful that this will be the start of something that will continue to grow and can support students of the Fort Plain School District for many years to come.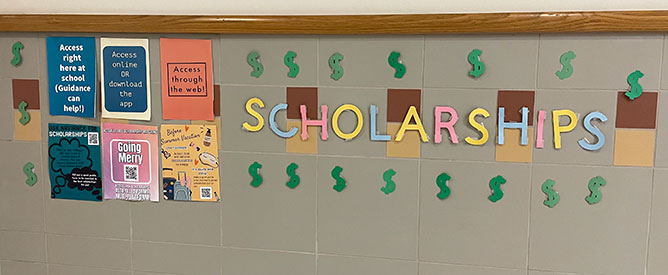 In the photos: Talia created the displays above in the high school, posting them with the help of fellow student Braeden Mosher (pictured with Talia in the top photo).