Mr. A's 10 Book Pizza Challenge creates an appetite for reading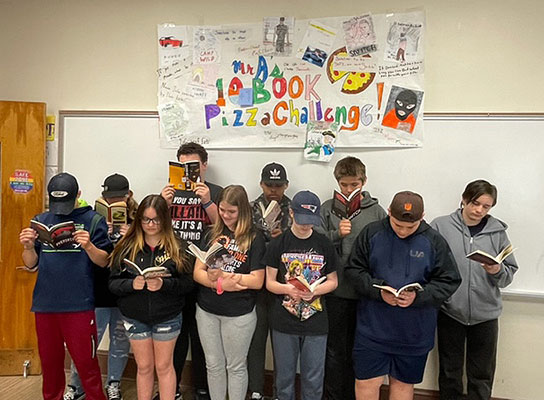 Many things compete for our time and attention in today's fast-paced world, yet one of the oldest forms of expression – books – can ignite the imagination, provide a unique experience for each person and open doors to unexplored worlds.
Back in September, Fort Plain Jr./Sr. High School teacher Ted Arndt challenged his students to read at least 10 books during the course of the school year and write a report about each one.
"I promised they would be rewarded with a pizza party if they accomplished this difficult task," Arndt said. "Well, last week, they completed their tenth book, 'Freak the Mighty,' by Rodman Philbrick. Examples of other titles include John Steinbeck's 'Of Mice and Men' and 'Snitch,' by Norah McClintock.
"The students' collective work ethic during this year has been outstanding, and they are very proud of their reading accomplishments. I couldn't be happier with them or their effort."
The students will enjoy their Pizza Challenge party on May 13. But that's not all that they and their teacher have to celebrate. "They are so excited that they are committed to reading an eleventh book before the year ends!" Arndt said. "They're already deeply into it."