Congratulations to our latest 7th grade Most Valuable Students
Fort Plain Jr./Sr. High School's 7th Grade Team has announced the Most Valuable Students for February, March and April 2022. Congratulations to Alexis Palmeri, Kala Clapper and Trinity Belliveau, respectively.
Most Valuable Student is a monthly award that was developed for students who are caught "doing their job." According to teacher Dale Smith, "Students who most demonstrate characteristics in one or more of the following categories will receive a Most Valuable Student award for the month:
Responsibility/accountability
Kindness
Academics
Good citizenship
School pride
Perseverance
Self-control
Helpful to peers/teachers, and
Accepting of new challenges."
Each monthly winner gets a Medal and Certificate congratulating them on their achievement.
Congratulations to the most recent Most Valuable Students:
February: Alexis Palmeri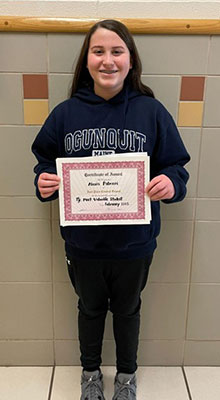 March: Kala Clapper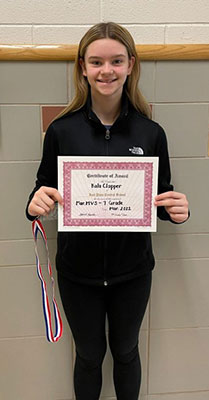 April: Trinity Belliveau