Miles, smiles and talent: new runner raises spirits and awareness

Fort Plain eighth grader Dustin Welch trained as a new runner with the high school cross country team this fall, and he quickly became known for his infectious enthusiasm, love of life and always having a "big smile on his face that brightens everyone's day."
According to Patrick Petty, cross country assistant coach, "Dustin was one of the hardest workers on the team and eagerly took on any challenge. He improved greatly over the season and brought many laughs to all of us."
The conclusion of Dustin's first season proved to be as energizing and uplifting as the hours he spent training with his teammates. In early November, Dustin joined with Coach Petty in running the 5K for Autism Awareness, a charity event presented through the Moon Joggers Virtual Running Events series.
While the event was virtual – meaning it didn't involve crowds of runners, large support crews or formal staging – the run itself was very much real for Dustin and his coach, and exciting and inspiring for his cross country teammates, family, Life Skills Teacher Lisa Petty, and High School Principal Dr. Deborah Larrabee, who presented Dustin with his finisher's medal.
"We had Dustin 'race' the Fort Plain athletic complex course as 'Dustin's Dash'," said Coach Petty, "and he did an OUTSTANDING job, completing the 3.1-mile course in 22:40 AND with a big grin on his face!"
Justin's mom, Jenn Welch, said, "Dustin has a lot of energy, and so we asked Dustin if he would like to run cross country with his brother Clayton, and he said yes and was all excited. We asked Mr. Petty if he could just run with the team," she continued, "and Mr. Petty was like, absolutely, we would love to have him run.
"The whole team was really great with him. We really appreciate what everyone has done for Dustin," she said.
Dustin, who is on the autism spectrum, said he loves to run and train with the team. And he is justly proud of earning his Autism Awareness 5K finisher's medal.
"Dustin looked great after the race; he wasn't at all tired," said Dr. Larrabee. "He's a great student and a talented runner."
"In addition to bringing out the best in everyone, Dustin serves as a role model and is a true inspiration as well," Coach Petty said. "Dustin is a remarkable young man; working with him this fall was the most fun and rewarding experience in my coaching career!"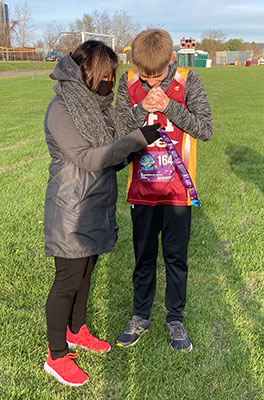 Fort Plain eighth grader Dustin Welch, pictured here receiving his medal from Fort Plain High School Principal Dr. Deborah Larrabee, is an enthusiastic, inspiring and talented runner who completed his first official 5K event in just 22:40 while raising awareness for autism. He loves to run and is coached by Fort Plain science teacher Patrick Petty. Local cross country runners beware: formal competition may be in Dustin's future.