March 30 Family Circle Game Night to offer free, fun activities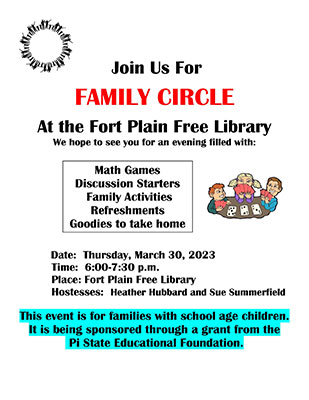 Games, activities and goodies: Families with school-age children are invited to a free Family Circle event at the Fort Plain Free Library on Thursday, March 30, from 6-7:30 p.m.
Fort Plain High School teachers Sue Summerfield and Heather Hubbard are hosting the Family Circle event, which will feature math games, discussion starters, family activities, refreshments and goodies to take home.
The event is sponsored through a grant from the Pi State Educational Foundation that supports educational programs and events that reinforce reading, math, and social-emotional literacy. It is open to the community.
The event is geared toward children through grade 12. Save the date and join us for a fun-filled evening!