Drama Club presents "Mamma Mia!" March 24-26 – Photos posted
[Posted March 3, reposted March 22 & March 27]
March 27 update: Visit our Facebook photo album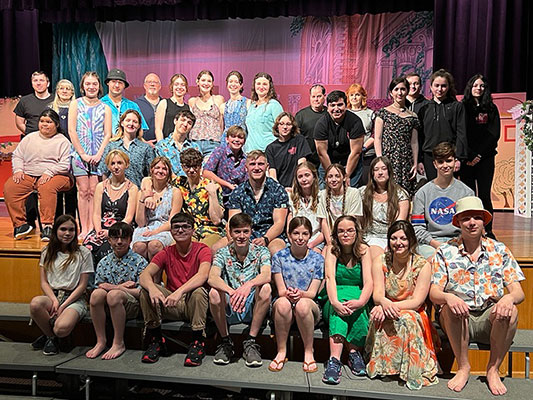 March 3:
The Fort Plain-Canajoharie Drama Club will present their spring musical, "Mamma Mia!" on March 24 and 25 at 7 p.m. and March 26 at 2 p.m. at Canajoharie High School's Arkell Auditorium. Tickets will be available at the door and are $8 for adults and $5 for senior citizens and students.
"Mamma Mia!" tells the story of Sophie, in the week before her wedding, who seeks to find her long-lost dad and form a relationship with him in time for the wedding. Fort Plain High School's Caleigh Bartholomew plays Sophie, and Canajoharie senior Chiarra Morris plays her mother Donna.
Prospective dads are portrayed by Dawson Sweet, Richard Catarino and Adam Leduc. Mom's friends, "The Dynamos," are played by Alexandria Gyurik, Aliza Hopkins and Avery Merchant. The fiancé, Sky, is performed by John Hopkins. Rounding out the principal characters are Sophie's friends, played by Jasmine Fonda, Faith Clark, and Ava Fatta, as well as employees/"dudes" played by Anthony Paradiso, Isaac Clark, and Lawrence Daley.
They are joined by Ethan Hubbard, Lavy Hodge, Autumn Scalia, Chloee St. Louis, Jayden Bentz, Willow Burke, Joey Barr, Thomas Kee, Brooke Jones, Aileen Germond, Lila Clarke and Kiera St. Louis.
Will Ryan and Lauri Broady direct the show. Lauri Broady is the choreographer and Norma Bowley is the musical director. Vicente Nunez assists with rehearsals and Michael Hoffman serves as backstage coordinator. Mike Broady is the technical director and is assisted by students Noah Ehle and Josephine Carcasole.
Questions may be directed to lauri.broady@fortplain.org.
March 22:
In the media
Our Fort Plain-Canajoharie Drama Club rocks: See why one member says, "it's a nice place," and why her sister encourages others to try performing in a musical in this WNYT-TV News feature.