FPHS alumna author Allyson Dahlin shares experiences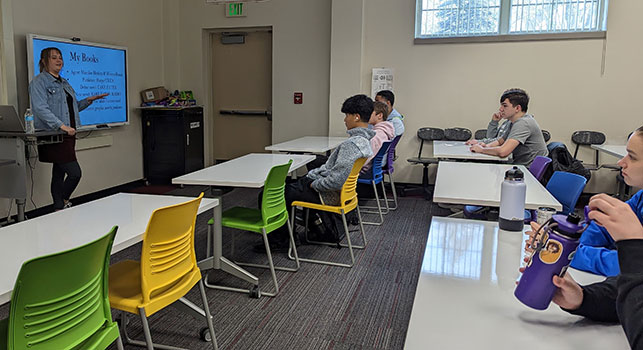 By Tariyka Chaulk, Jr./Sr. High School librarian
Early Tuesday morning, March 7, Lisa Trembley's 12th grade English classes gathered at the back of the Jr./Sr. High School Library to meet an author who once sat in those same seats. Published author and Fort Plain Class of 2008 alum, Allyson Dahlin, visited Mrs. Trembley's college English and 12th grade classes, as well as Emma DiDonna's 10th grade Honors English class.
Dahlin's young adult book "Cake Eater" is a futuristic retelling of the story of Marie Antoinette. Students viewed a short presentation about Dahlin and her first published work, then spent the rest of the time asking questions about Dahlin's process, how the publishing world works, and what stories Dahlin has in store for us in the future.
"Allyson did an excellent job interacting with our students today. It was truly a pleasure to hear her present part of her novel and to see the way she interacted with our students as she handled their many questions. She truly is a role model, and I am very proud of her. I cannot wait to read her next novel!" Mrs. Trembley commented on the visit.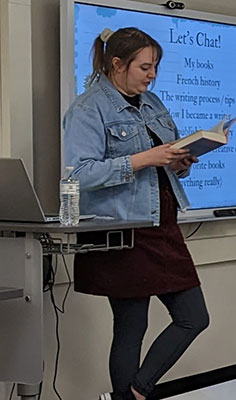 Dahlin currently works in digital marketing but uses her spare time to write. The novel "Cake Eater" was written as part of the National Novel Writing Month challenge. During November, writers around the world set a goal and devote the month of November to writing a novel. Dahlin was able to do just that, with a literary agent and a publishing contract to follow. Her debut novel is a Junior Library Guild Gold Standard book. During its debut month, it was listed as an Amazon Best Book and was recently added to the Hal Clement Notable Young Adult Book List, which lists the best science fiction books for young adults published throughout the year.
The visit was organized by Jr./Sr. High School Librarian, Tariyka Chaulk, for what she hopes will become a regular thing.
"I think these visits have such an impact because it makes a writer more real. Instead of a name on a cover, students see a real person in front of them. While the author is presenting, they might find commonalities between the author and themselves. Students might think, 'That person's just like me. They read books and wrote a novel. Maybe that's something I can do.'"
Research suggests that students who participate in regular author visits are more likely to have high reading scores, and more likely to read and write for pleasure.