2-hour delay on 3/14; any closure determination will be made no later than 7 a.m.
March 13, 2023
Dear Fort Plain Students, Parents and Caregivers,
I trust everyone is doing well! We are hopeful spring will arrive soon, however, it is forecasted that more snow is expected to cover the region beginning this evening.
In anticipation of the expected significant snowfall, FPCSD will begin with a two-hour delay tomorrow, Tuesday, March 14th. A final determination regarding a school closure will be made tomorrow morning no later than 7:00 a.m.
If we have to close school tomorrow, that action will require us to use our last emergency closure allotted for in this year's school calendar. The District planned for four emergency closures, we have used three thus far.
If further emergency closures (beyond the fourth one) are required, the District will shift to provide a virtual learning day. A virtual learning day is when students can access the curriculum outside of the traditional class. The virtual learning days are designed to avoid interruptions in instruction that occur when school cannot be held in person.
Below are the details for virtual learning for each age level:
Students in Pre-Kindergarten-Grade 4, Mr. McDuffee's homeroom and Ms. Hoos' homeroom will be sent home with a virtual learning packet. The packet will be labeled as Emergency Day 5 Learning Packet. This packet contains several assignments that should be completed and returned to school the next day. For students to be considered in attendance on the virtual learning day, they will need to turn in completed assignments as evidence of participation. If students are unable to complete the assignments independently or with remote support, accommodations will be made to assist them in making up the missed work upon return to school.
Students in Grades 5-6 will be able to access assignments from any device in their Google Classrooms. Again, for the student to be considered in attendance, the assigned work must be completed and turned in. These students may also be asked to log onto a Google Meet with their teachers at a specified time.
All elementary teachers will be available to check-in and assist students via ParentSquare or by using email from the hours of 10:30 a.m. until 12:30 p.m. during the virtual learning days.
For students in Grades 7-12, virtual learning days will operate on a 2-hour delay schedule. Students may be directed to attend a Google Meet or they may be assigned work to complete independently via Google Classroom. It is important that students check each Google Classroom Stream at the appropriate class time (listed below) to receive teacher expectations and assignments. If a class is not meeting via Google Meet, the teacher will be available to answer questions and provide support during posted office hours in their Google Classroom.
Period 1 – 10:00 -10:29 a.m.
Period 2 – 10:31 – 11:00 a.m.
Period 3 – 11:02 – 11:31 a.m.
Period 4 – 11:33 a.m. – 12:02 p.m.
Period 5- 12:04 – 12:33 p.m.
Lunch Break – 12:36 – 1:05 p.m.
Period 6 – 1:07 -1:36 p.m.
Period 7 – 1:38 – 2:07 p.m.
Period 8 – 2:09 – 2:38 p.m.
To join a Google Meet for any given class, students should sign in to Google Classroom and click the green "Join" button on the left-side menu.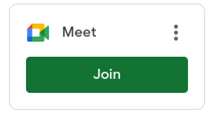 Students in Grades 7-12 should make sure their chromebooks are charged and they are ready to begin classes at 10:00 a.m. For any technical issues please contact parenthelp@fortplain.org.
If you have any questions or concerns regarding this letter, please don't hesitate to reach out.
Respectfully,
Mrs. Crisman
Superintendent of Schools