Fort Plain Throwers continue Sectional success
Reported by Brad Niles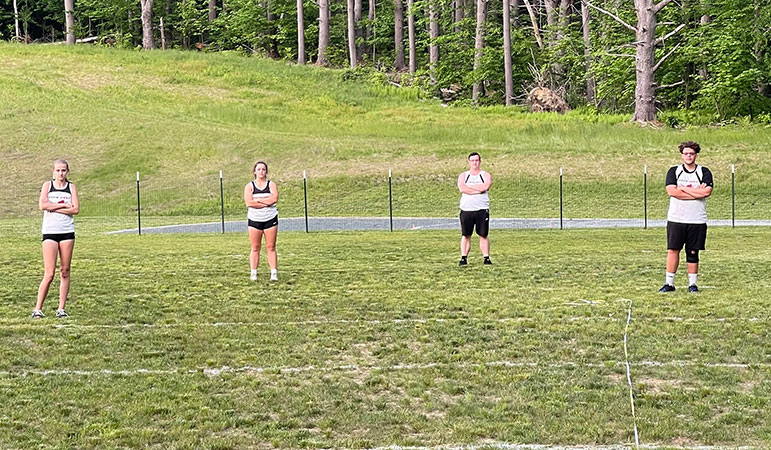 Monday, June 7, 2021, was another banner day for the Fort Plain Track & Field Throwers.  At the Section 2 Group 5 Field Event Championships held in Berlin, NY, three athletes won Sectional titles, as well as completing other podium worthy finishes. They have carried on the tradition of their predecessors in the throwing events.
In the previous five Track & Field Sectional competitions, there were six championships earned by Fort Plain Throwers. In 2014, Gabby Bridgewater won the girls Shot Put Competition. In 2015, Nate Florian won the boys Discus Title and finished as runner up in Shot Put.
In 2016, Nate Florian again won the Discus Title and was runner up in Shot Put. Rhyonn Ford claimed the girls Shot Put title in 2017 and finished third in Discus. That year Quinn Jones finished second in girls Discus.
2019 saw Hunter Logan sweep both the Shot Put and Discus competitions.  Although there was no Sectional competition in 2020, Fort Plain throwers anxiously awaited their return in 2021.
For the 2021 Sectional Championships, Sarah Florian claimed the Discus title with a throw of 99 feet and 1 inch. She also finished 4th in the Shot Put event. Her teammate, Sarah Paradiso, claimed 5th in Discus and 1st in Shot Put. Her competition-winning throw was a career best 31 feet 4 inches. In the boys throwing events, Howie Kelley claimed second in the Boys Shot Put event with a career long throw of 39 feet 9.5 inches. He won the Boys Discus Title with a career best throw of 112 feet and 10 inches.
The Fort Plain Track & Field coaches are proud of these outstanding athletes, as well as all of the athletes on the Track team, both past and present. Everybody has worked to the best of their ability and the positive results speak for themselves. Although season's ending can be sad, Sectional success makes it easier to wrap up the year!
In photo from left: Sarah Paradiso, Sarah Florian, Howie Kelley and Tyrell Martin