Congratulations National Honor Society inductees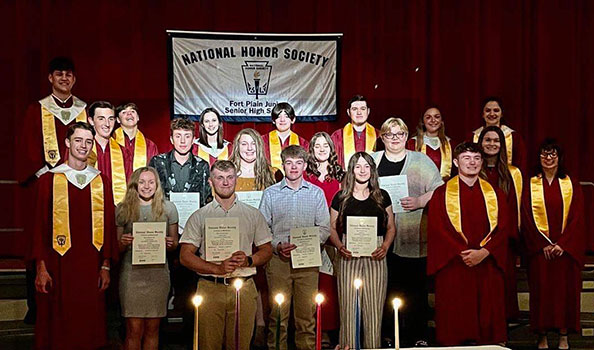 Eight Fort Plain Jr./Sr. High School students were inducted into the National Honor Society at a May 19 ceremony, in recognition of their scholarship, leadership, service and character.
Congratulations to the following students on their induction:
Americus Cotton
Madison Delgado
Andra Fuhs
Rylee Herron
Ethan Kilmartin
Anthony Paradiso
Natalie Thibodeau
Stephen Gray
Senior National Honor Society members for 2022 are:
Erin Crouse
Brandon Dygert
Sarah Florian
Keagen Ford
Hailey Hogan
Tucker Jones
Robert Jordan
Talia Narzymski
Noah Norton
Emma Oldick
Seth Rivkowich
Estee Smith
Levi Thomas
Serving as this year's National Honor Society officers are Robert Jordan, president; Erin Crouse, vice president; Levi Thomas, treasurer; Sarah Florian, secretary; and Hailey Hogan, public relations. Mrs. Kolbe Gray is the National Honor Society advisor.