A proactive approach to Mental Health Awareness Month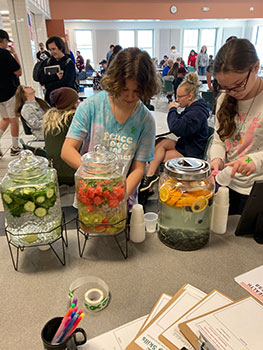 May is Mental Health Awareness Month, and Fort Plain Jr./Sr. High School is taking a proactive approach to wellness, offering students in grades 7 through 12 a variety of engaging activities and workshops during their lunch periods.
Offerings throughout the month will include self-care tips, a hydration station with fruit-infused water and create your own healthy snacks, as well as sessions on yoga, mindfulness, aromatherapy, coping skills, personal safety plans, and a rock painting session and walk to place the rocks outside near the school.
School counselors Colleen Cushing and Kayla Mahoney, Psychologist Dr. Lara Gordon and Principal Dr. Deborah Larrabee have teamed up to coordinate the month's activities, with input and ideas from students.
Just like physical health, good mental health requires awareness, positive behaviors and learning new skills, particularly during busy times of the year and when confronted with challenges. FPHS's Mental Health Awareness Month activities are designed to offer students enjoyable opportunities to learn and grow, both in school and beyond.
Parents/guardians may sign up their students for activities and workshops by contacting their school counselor. Lunch periods are scheduled between 11:05 and 1:05 p.m.