2021 Valedictorian and Salutatorian share a love of the printed word
Books, books and more books. When Fort Plain's Class of 2021 Valedictorian and Salutatorian weren't busy with their studies or playing sports, free time would find them both indulging in their common passion: reading.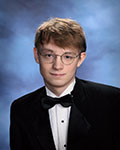 "I love to research global history," Valedictorian Seth Wintermute said. "I'll read for hours for pleasure about how economics has shaped history in America and Europe. My love for history started when I read one of my mom's books about the holocaust, 'Night' by Elie Wiesel, and I became interested in learning different perspectives of different authors. I'm always reading, even as I walk down the hallways in school."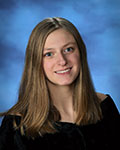 "If I had the time, I'd spend days on end at Barnes & Noble reading critical essays, or about nature, the Adirondacks, biographies, history, and or the 'Midnight Sun' sequel to 'Twilight'," said Salutatorian Sarah Paradiso. "I can't put a book down, no matter how long it is."
While they love books, Seth and Sarah were involved in Fort Plain athletics. Seth ran with the Cross Country and Track and Field teams. He enjoys running during his free time as well, preferably during colder weather. Sarah also ran on the Track and Field team and played on the Volleyball team, a sport she signed a commitment to play at Keuka College. She also played on the Basketball, Softball and Bowling teams.
Seth and Sarah were involved in many high school activities. Seth was active in Class Council, the Environmental Study Team, Prom Committee and National Honor Society. Sarah was also involved in Class Council, Environmental Study Team and National Honor Society, as well as Drama Club, Band, Chorus, Mock Trial, Hugh O'Brian Youth (HOBY) organization, and in Girls State and her church choir.
At Keuka College, Sarah will study adolescent education, with a major in History and minor in English. She's looking forward to the many internship experiences the college offers, and she is also interested in pre-law and political science – and perhaps running for office one day. Becoming an educator may come first, however. "I have a family history of history teachers!" she noted.
Seth will attend Syracuse University in the fall to pursue a double major in Political Science and Political Philosophy. He also has his eye on pre-law studies and law school, and he has a future goal of working in political analysis.
When asked to describe something unusual about himself, Seth said that once he became a senior in high school, he "became very vocal about everything, and when I wasn't in class, they missed me.
"I've been opinionated since birth," Seth added, "but I didn't begin speaking up until this year. You need to get your opinion out, because no one will ask for it."
Sarah's unique enjoyment is "writing creatively. I have three novellas in the works, and I also like to write historical fiction," she said. "My brain never stops; once I get started writing, I hate to stop."
Sarah writes mostly at home, but also enjoys "writing in a coffee shop, or I could write anywhere. I'll get abstract thoughts in my brain and take down memos. I've done some of my most creative writing in the shower or just before bedtime," she said.
Sarah and Seth both enjoy country music, have happy memories of their time as Fort Plain students, and thank their teachers for all of their support and encouragement. Both said they missed interacting with fellow students and teachers during the pandemic.
Each offered advice for their younger peers.
"Stay ahead of your work," Seth advised. "Don't let yourself fall behind."
"Make sure you find balance in your life," said Sarah. "Have fun while you can; go to that basketball game!"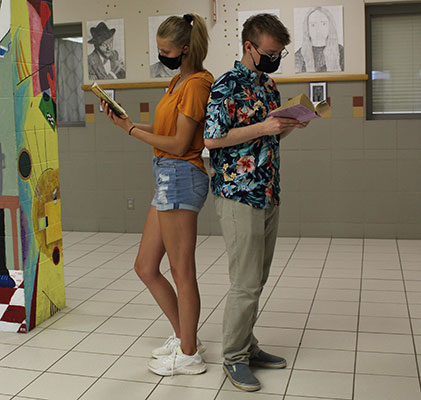 Read more about our Class of 2021 Top Ten students