2012 grad Samuel Hoffman graduates first in NCOA class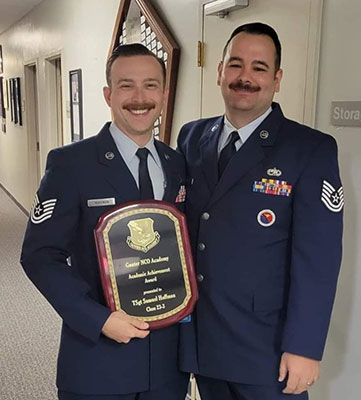 Congratulations to Fort Plain Class of 2012 alumnus Samuel Hoffman, a Technical Sergeant with the United States Air Force, on graduating with the highest grade point average from the Gunter NCOA (Gunter Noncommissioned Officer Academy), Montgomery, AL.
Hoffman is currently stationed at Moody Air Force Base, Georgia. He completed five weeks of studies at Gunther NCOA, part of Air Force University, in March. He is the son of Fort Plain Class of 1983 graduate and bus driver Marty Hoffman.
"Samuel went into the Air Force in August of 2012, and he recently got his private pilot license in August 2022," Marty said. "He's pursuing higher education to be an NTSB flight investigator."
In the photo: Samuel holds his Academic Achievement Award while standing with an Air Force colleague