Well-worn t-shirts tell a tale of forensics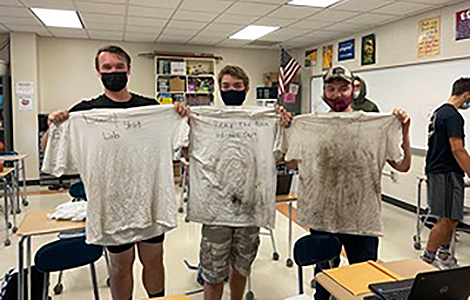 What can you learn from a t-shirt that has been worn every day for a week without being washed? Plenty!
Students in the Forensics and Criminology class at Fort Plain H.S. recently conducted a lab involving the Locard Principle. "The principle is a famous forensics fundamental idea that when two objects come into contact with each other they exchange material," explained Kevin Bogus, who teaches the class with Dale Smith.
Mr. Bogus and Mr. Smith ran an experiment where their students wore white t-shirts, which they designed themselves, for an entire week. The students first made predictions of what kind of fibers, materials or substances they would find on their shirts. Then they examined  the shirts with hand lenses and microscopes to identify, as Mr. Bogus said, "what fun and interesting things they picked up all week."
Check out their Facebook photo album for more photos.