Virtual Reality kits are real learning for Harry Hoag students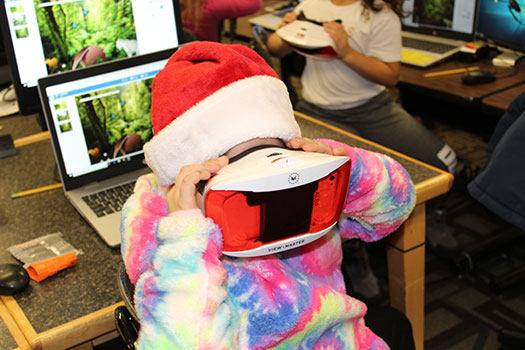 Harry Hoag students went around the world without leaving Matt Heiser's technology classroom in early December, literally viewing the ends of the earth, the Amazon rainforest, lower Manhattan and beyond while learning about science, geography, ancient cultures and more.
"We borrowed Virtual Reality kits from the Northeastern Regional Information Center (NERIC) for two weeks that included software and VR goggles," Heiser said. "In our Tech class, students in grades two through six viewed places that align with their curriculum."
The VR goggles provide a 3-D view that changes as a student moves their head up, down and side to side. For example, a VR view of the rainforest through goggles shows flora and fauna on the forest floor to birds in the canopy and sky above, and everything in between.
The VR technology made the following come alive for students:
Second graders explored the North and South Poles
Third graders viewed various natural habitats
Fourth graders visited New York City
Fifth graders visited National Parks
Sixth graders viewed ancient Egypt
The students reacted to their experiences with wonder and excitement, asking questions and showing a desire to learn more about what they were exploring. Virtual Reality truly made their subjects come alive.
"The VR kits were a hit. I wish we had them all year," Heiser said.