Thank you Fort Plain True Value!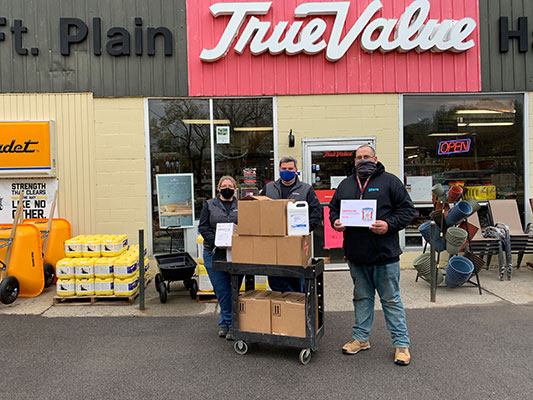 Fort Plain True Value has honored their community's educators, staff and students by donating to Fort Plain Central School several boxes and bottles of health and safety supplies, including hand sanitizer, germicidal cleaner, masks, a spray bottle, pumps and blue painter's tape for marking social distancing.
Fort Plain True Value owners Tanya and Shawn Kilmartin presented the donation to Matt Hearn of Fort Plain Central School at their store on Wednesday morning, April 21. The donated items took up a good portion of the district's pickup truck bed and will be used to help keep students, staff and visitors safe and healthy.
The Kilmartins made the donation as part of the True Value Educational Heroes Safety Campaign. Last fall, they donated items including soap and masks to Fort Plain Central School.