Talented athletes Troy Butler and Sarah Paradiso celebrating signing

They practiced, they competed, they shared their hard work on the baseball diamond and volleyball court with college representatives, and it all paid off. Talented Fort Plain senior athletes Troy Butler and Sarah Paradiso celebrated signing with Binghamton University and Keuka College at a December 15 ceremony at their high school.
The signing ceremony was postponed from its original date in early November due to Fort Plain's temporary transition to remote learning. Troy and Sarah decided to wait to have their ceremony until school reopened, rather than celebrate virtually.
At the afternoon event, which was covered by the Daily Gazette, Troy and Sarah talked about how they connected with college recruiters despite a pandemic and attending a relatively small high school.
Troy chose to play baseball at Division I Binghamton over Siena, UAlbany,  Rutgers, UMass, Maine and University of Maryland. He said he increased his exposure to recruiters by participating in college showcases and playing near and far with the Capital Region Renegades baseball travel team.
"We were all over this side of the country, all summer," he told the Gazette reporter at the signing ceremony. "I had to get out, had to get my name out there first before they could start coming to me. I went to as many showcases as I could. After that, the phone started ringing."
Troy noted that Binghamton liked him and he liked Binghamton. The university met his goals of playing at a Division 1 school that offers strong academic and athletic programs. He encouraged other student-athletes to pursue their dreams by putting in hard work and effort.
Sarah Paradiso shines on the court
Sarah has been a standout player on Fort Plain's volleyball team. She played at a number of college showcases last year, and her skill on the court caught the eye of Keuka College coach Quinn Wright. Keuka is a Division III College located southeast of Rochester, in New York's Finger Lakes Region.
After that showcase, Sarah received an email from Wright and met with him via Zoom.  She told the Gazette reporter, "I did some research on my own, took a virtual tour, it had to be virtual my first time, and then I verbally committed our second or third meeting after talking to another player. It just felt right."
Looking beyond college, perhaps Fort Plain's hallways and volleyball court will see Sarah return to share her knowledge and experience: she plans to major in education at Keuka College.
"Sarah and Troy are outstanding students, outstanding athletes and true leaders," said Fort Plain Jr./Sr. High School Principal Dr. Deborah Larrabee. "I have watched them on the playing fields. They stand tall with their teammates and coaches. They never make excuses; they just play and they play hard.
"We share in their happiness as National Signing Day marks the end of one journey and the beginning of the next," Dr. Larrabee added. "Keuka and Binghamton are so very fortunate to have these athletes, and we look forward to what the future holds for Sarah and Troy."
Congratulations to Sarah and Troy. Go Hilltoppers!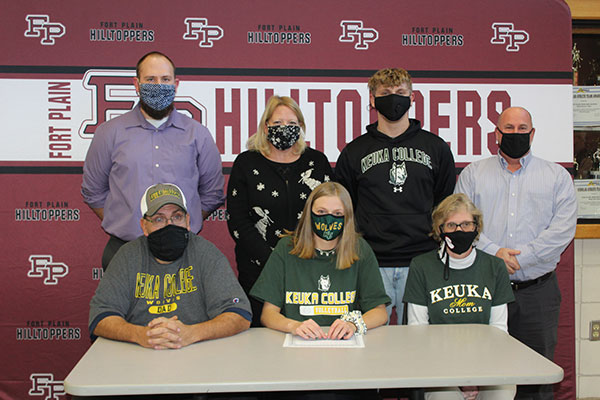 In the photo above: In the back row, Coach Brad Niles, Coach Lisa Trembley, Sarah's brother, Anthony Paradiso, and Coach John Fureno. In the front row, Sarah and her parents.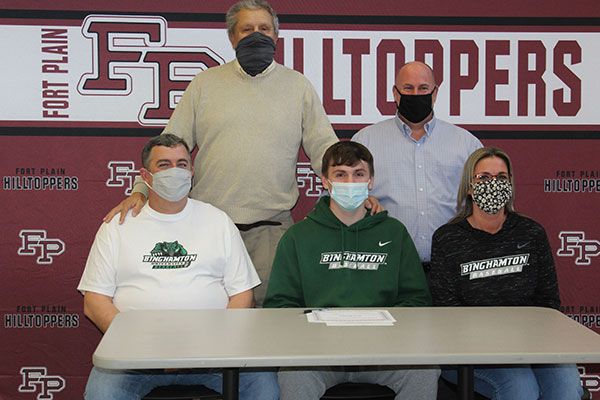 In the photo above: In the back row, Coach Craig Phillips, Coach John Fureno. In the front row, Troy and his parents.