Students teach students about proper dental care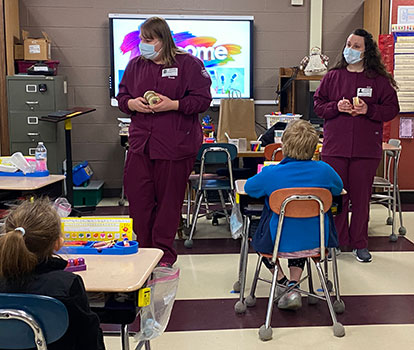 From two college students to a roomful of younger learners, good dental care was the lesson of the day on March 2 at Harry Hoag School.
The children learned how to take care of their teeth from guest speaker Danielle Alkinburgh, who visited Michelle Searles' class, where her son is a student.
Danielle, who is studying to be a dental hygienist, was accompanied by co-presenter and fellow HVCC student Katelyn Roser, and they provided an interactive oral hygiene presentation to the children as part of their dental hygiene coursework.
"Danielle and Katelyn planned some fun, hands-on experiences for the kids, including an activity for brushing (painting) the mouth on paper with a toothbrush for two minutes, and using mega blocks with playdough in between the spaces to simulate flossing for two minutes," Michelle Searles said. "Danielle's son is very proud of his mom, and the students enjoyed a great learning experience!"