Students roll out Hilltoppers Coffee Cart and it's a hit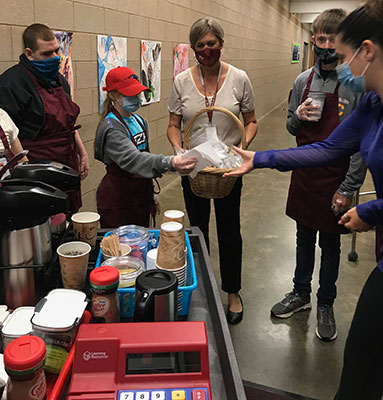 They like to brew it, serve it, sell it, and some like to drink it. Coffee is a hit with Dorene Goodwin's Life Skills class at Fort Plain High School, where the students officially rolled out their Hilltoppers Coffee Cart business on Friday, Sept. 24.
Under the tutelage of Ms. Goodwin and teacher aides Kim Phillips, Brittney McIntosh and Brittney Allen, the students started on the first floor of their building on their first day of business. Each Friday, they will be serving up coffee, tea and hot chocolate, after preparing the beverages in their classroom's kitchen and stocking their cart with sweeteners, creamers, flavors, cups and lids. On their first Friday in business, the students also offered free blueberry muffins to customers.
Throughout the week, the students take orders from school faculty and staff, prepare their products and build skills beneficial not only to the success of their business, but to school and life in general. "They are learning about dealing with people, taking orders and handling money, among other skills," Ms. Goodwin said.
When asked about their favorite part of the business, the students gave a variety of responses. "It was good; I liked it. My favorite part of it is we are all working together," said Page, who worked as a cashier on day one. "In my old school, I collected money in our grocery shop, where we also sold school supplies."
Dustin said his favorite part is "putting the lids on the cups."
Raul "likes to do the checklist," checking off teachers' names when the students delivered coffee orders to classrooms.
Zach said he likes "to push the cart and work together" with his classmates. "He was captain of the ship," Ms. Goodwin noted.
The best sales people love their products. Zach said he likes coffee, as does fellow student Liberty. "I wanted some coffee because it looked so good!" she said.
As the year continues, the class will be growing their business and bringing the Hilltoppers Coffee Cart to more sections of their school. While the venture is a new one, it is already a hit in the hallways of Fort Plain High School.
"This is a wonderful learning experience for them, and they are having fun!" said High School Principal Dr. Deborah Larrabee.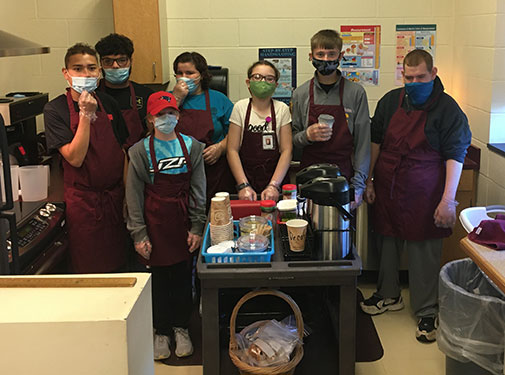 Update October 13, 2021:
The students are now serving their whole school
The students' venture is such a success that they have expanded to serve the entire high school building. They are enjoying running their new business and their new customers, like Mr. Elliott on the third floor, are very happy as well.