Race horses provide lessons, opportunity to help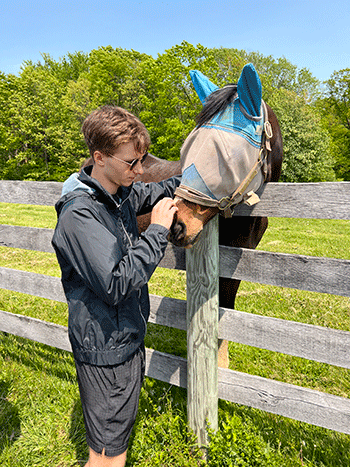 Students in Kolbe Gray's and Lucas Santiago's History of Sports/Sports Statistics class culminated their study of horse racing with a field trip in May to Saratoga Springs to learn more about the horse racing industry, horse breeding and thoroughbred retirement.
At the Oklahoma Training Track in Saratoga Springs, the students watched practice sessions, learning about the different exercises and workouts performed by horses based on their racing schedule.
During a barn visit, the students got a behind-the-scenes look at where workers and horses stay and live when they are not working. They met a pony rider, Mary Keiser, who has worked for many years at the Oklahoma Track, and learned about ponies and their role at the track. Santiago noted, "The students were able to get up close with some of the horses and even got to feed them!"
At Sugar Plum Farm, the students saw where the process all begins. They learned about the breeding industry and a typical day in the life of a breeding farm worker.
At the National Museum of Racing and Hall of Fame, the students were given a guided tour of the history of horse racing as it pertains to American history. They also had a special guest appearance by famed jockey Ramon Dominguez, who has ridden more than 21,000 horses, won close to 5,000 races and made almost $200,000,000 in his career.
At 18 Karat Farm, as a culminating activity, the students learned about the start of the charity, Thoroughbred Retirement Foundation, or TRF. TRF  helps owners of thoroughbred horses, providing a farm where retired racehorses can live out their rest of their lives.
The students had the following thoughts about their field trip:
Stephen Gray said, "The Oklahoma Track was my favorite place because we got to actually see them run. It was cool to see the future of the sport at the beginning of their racing careers and we also got to see some pretty good trainers. I didn't know that they had a logo type on their silks to identify the trainer of the horse."
Ezekiel Brown added, "It was awesome to see the horses and the jockeys warm up. I have never seen an animal run that fast in my life. It was awesome. There's a lot of rich history behind the Oklahoma Track and the history we learned that was behind Saratoga was also awesome."
Vivian Nunez said, "I enjoyed hearing the story of how the Thoroughbred Retirement Farm came to be. The walk throughout the horse paddocks and getting to pet the horses was really fun. They were so sweet."
Anthony Paradiso added, "I really enjoyed the breeding farm to see how the racing bloodline is done. I think it is always nice to see the origin of where everyone's stories begin. Personally, that is why it was my favorite because it's the start of something amazing. Some of those horses can be future winners."
Alex Smith said, "I enjoyed the museum tour and the video that was played in the theater box. It was a very cool video with very fun presentation. It was very informative and interesting."
"On the behalf of our class and Fort Plain School District, we want to thank our hosts at TRF and NYRA – Kim Weir, Sharon Dominguez, Maude Walsh, Keith McCalmont, Stephanie Cowser and Stephen Geissler – for making this field trip possible and giving our students a once-in-a-lifetime experience," said Santiago and Gray. "Our class was able to donate $500 to the TRF as a thank you for hosting us!"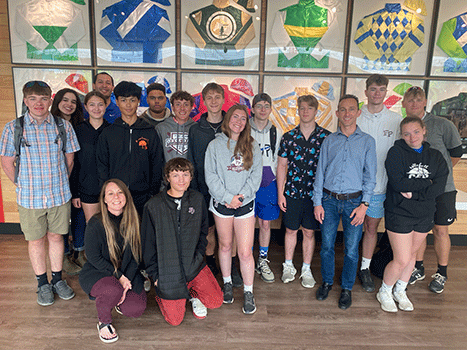 At the National Museum of Racing and Hall of Fame with jockey Ramon Dominguez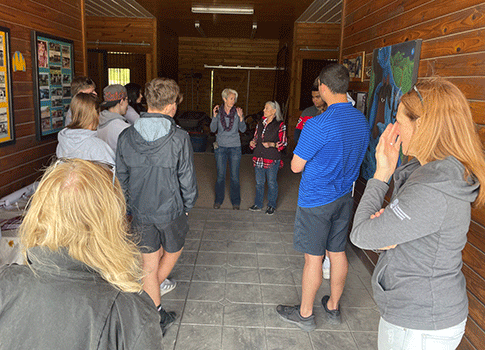 Learning about horses, barns and the racing industry

Group photo!
For more photos, visit our Facebook album.