Pandemic challenges are no match for Gram Lorraine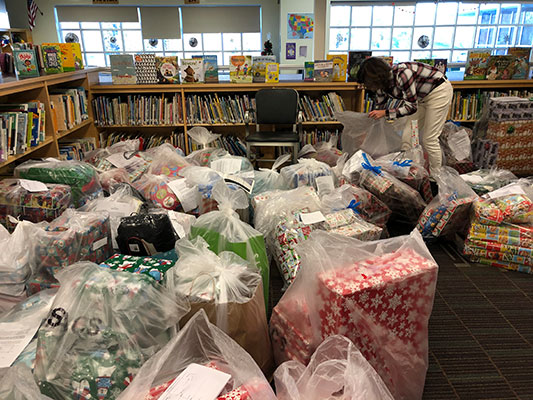 A global pandemic is no match for the Gram Lorraine Project at Fort Plain. There was barely room to walk in the Harry Hoag library once it was stuffed shelf-to-shelf with bags of toys and clothing that will brighten the holidays of 135 children and 53 families in the district.
Fort Plain staff, students and community members donated generously to Gram Lorraine this year, with the school's committee of Tara Hayes, Lori Fredericks, Lisa Petty, Lynn Palmeri and Joanne Kennedy, and "student elf" gift shopper and FP senior Olivia Kennedy, leading the successful holiday drive.
"The 2020 holiday season is going to be a bigger challenge than usual," said Fort Plain Jr./Sr. High School Principal Dr. Deborah Larrabee. "The pandemic is causing more stress than normal, but donations for the Gram Lorraine Project are as strong as ever. With the support of faculty, staff, students and the community we will be helping to make the holidays bright for many of our Fort Plain families."
Each sponsor in the Gram Lorraine project spends around $100 to purchase at least four items of clothing and a toy. The biggest sponsor was the Fort Plain/Canajoharie Elks Club, with a $2,500 donation. Organizations that sponsored four or more students included the Fort Plain Police Department, Canajoharie Moose Lodge, Mohawk Valley Women's Club, Mohawk Chevrolet, and the Fort Plain Student Council.
"We had many other generous sponsors from the school and community," said Tara Hayes. "Some sponsors were from as far away as Texas, Ohio, and Virginia with ties to the Fort Plain Community. Thank you to all who supported Gram Lorraine."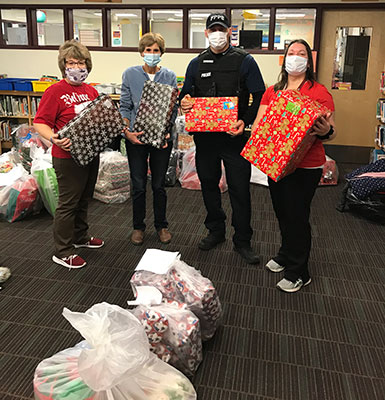 From left: Lori Fredericks, Lisa Petty, Corporal Don Richards (school safety officer), Tara Hayes
View more photos in our Facebook album.