Microbiologist by day, published author by night – FPHS alumna Chelsea Lauren inspires students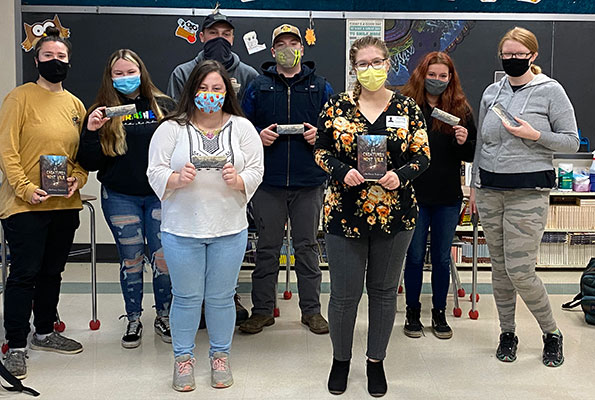 Fort Plain High School Class of 2011 graduate Chelsea Koch has a lot to share with the current students of her alma mater. A microbiologist with New York State by day, she is also the author of "Creatures Most Vile," a novel for young adults.
Chelsea, who writes under the name Chelsea Lauren, visited with students in Lisa Trembley's English classes at Fort Plain High School on Nov. 12, including the English 11 Honors class, where she once was a student. She talked with the students about writing, publishing and what she likes to read herself, as well as sharing a bit about her background.
Chelsea talked to the morning classes, reading part of her novel to each class, and answered questions posed by the students. Four students won signed copies of her novel: Natalie Thibodeau, Bree Cassanova, Vincent Lince and Isaac Paul, and all of the students received bookmarks.
"Seeing our students succeed is one of the most rewarding aspects of being a teacher," Trembley said. "Today, I got to share that reward with my current students when one of my talented former students came in to share her debut novel called 'Creatures Most Vile'. Through her strong anti-hero, Anora, and through her own experiences, Chelsea encouraged the students to be true to themselves and to fight for what they want in their own lives."
Chelsea has fond memories of her high school classes, particularly English, which prepared her well for college and beyond.
"As a former student in Mrs. Trembley's English class, what I remember most is her enthusiasm and encouragement of creative writing," Chelsea said. "The writing skills she taught provided a great foundation going into college English courses."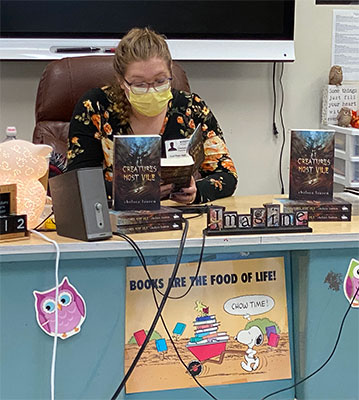 After graduating from Fort Plain, Chelsea attended Hartwick College in Oneonta, NY, where she double-majored in biology and chemistry. Hartwick is a liberal arts college, which means students must take courses in a wide variety of subjects for a well-rounded education. Chelsea took an introduction to creative writing course for this requirement, and that is where she developed her love for writing.
Professionally, Chelsea is a food microbiologist with the New York State Department of Agriculture and Markets, where she analyzes various food and dairy products for food-borne pathogens such as e. coli and salmonella. Her work has contributed to recalls and helps keep food on the shelves safe for consumers.
In addition to writing, Chelsea enjoys crafting and watching monster movies, the latter of which inspired her novel. She is working on a second book of "Creatures Most Vile" and a science fiction project for middle grade readers.
Chelsea lives in Fort Plain.