Jodi Coppolo named principal of Harry Hoag Elementary School
July 6, 2022 – Jodi Coppolo has been named principal of Harry Hoag Elementary School, effective Aug. 1, 2022. She was appointed at the July 5, 2022, Board of Education meeting and fills a vacancy created when Lauren Crisman was appointed Fort Plain superintendent of schools.
Superintendent Crisman will continue to supervise elementary programming until Coppolo begins. Coppolo comes to Fort Plain from South Kortright Central School, where she served as pre-K-12 building principal. She also served as elementary lead teacher, mentor, RtI coordinator, after school program site coordinator, pre-K-6 science coordinator, and teacher.
"I am excited to welcome Ms. Coppolo to our school community!" Crisman said. "She brings with her a variety of teaching experiences and has served in several leadership capacities in recent years. During the interview process, it became very evident that Ms. Coppolo is a thoughtful leader who cares deeply about the well being of all of her students and staff members. She stood out from the beginning of the process due to her preparedness for each interview."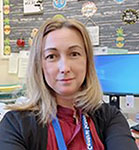 "It is my pleasure to serve as the next Harry Hoag School principal!" Coppolo said. "Prior to this position, I've had many leadership experiences, and even though my professional assignments evolved, I will always consider myself a teacher at heart. Before becoming an administrator, I spent 19 years in the classroom, teaching at a variety of grade levels."
Coppolo holds a Bachelor of Science in Elementary Education from SUNY Oneonta, a Master of Science in Special Education and Literacy from the University at Albany, and a Certificate in School Building Leadership and Certificate in School District Leadership from the College of Saint Rose. "By pursuing lifelong learning," she said, "I intend to be an example to students and teachers that we should never stop investing in a growth mindset."
Coppolo and her family have lived in Cobleskill for the past eight years. She has two children, a daughter who will be a freshman in high school and a son who is going into seventh grade. "I have the same expectations for them as I do for Fort Plain's children: I want to see them excel and become productive beings, who have ample opportunities to become whatever they want when they grow up," Coppolo said.
"It is my privilege to lead Harry Hoag Elementary and the many talented staff and students here. My goal is to continue to provide a supportive climate and culture that is conducive to teaching and learning. By doing so, each individual student and staff member can experience growth to their highest potential. I look forward to interacting with all in our school community this year."