Honoring a teacher superhero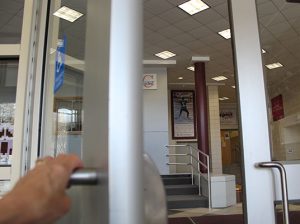 "As I walk into school, I can see it through the doors, and it's a great way to remember Kevin." What Fort Plain High School Principal Dr. Deborah Larrabee sees is a large banner hanging in the school lobby memorializing beloved teacher Kevin Bogus, who passed away in May 2022.
Designed by high school teacher Linda Cole, the banner features an image of an original painting created in Kevin's memory by fellow teacher, ninja athlete, and trainer, and close friend Geoff Snyder, who unveiled the banner at a Feb. 2 ceremony. The painting depicts Kevin during ninja training, gripping strongly with both hands while the rest of his body is airborne, wearing a shirt that says, "Get A Grip."
"I'm an artist and an art teacher and wanted to remember Kevin through the painting," Snyder said. "It's hanging in our Albany Ninja Lab, where Kevin was beloved by everybody." Snyder, who is a co-owner of the gym, competed on season 9 of American Ninja Warrior in Cleveland, Ohio, in 2017, and became discouraged after applying repeatedly to compete again.
"I was bummed and was going to give up," he said. "Kevin talked me into applying again last year. 'You can't quit,' he told me. 'You gotta keep trying; you're not a quitter'. So, I tried again, making Kevin's story part of my application video. I was accepted to compete this spring in Los Angeles. I had a less than one percent chance of being picked, so being picked twice is like a dream come true."
The Kevin Bogus memorial banner also features a quote by Thor, "A victory has more meaning when it is not won by the force of your own arms, yet the ingenuity of your own brain!"
"The quote was part of Kevin's email signature at school," said Dr. Larrabee. "He loved Marvel Entertainment. The painting, quote and the banner are a great way to honor him. We think Kevin was watching the unveiling from above and approved."