Grilled Cheese Challenge a tasty Home & Careers lesson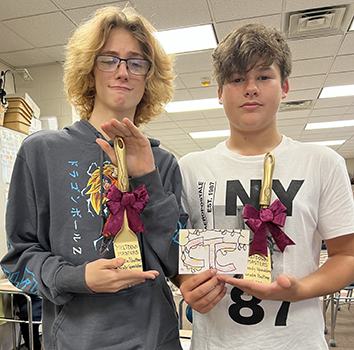 Fort Plain Jr./Sr. High School's 8th grade Home and Careers class recently competed in a tasty event that tapped their culinary and creative skills: the 2nd Annual Grilled Cheese Challenge.
"The competition and the judging were tough, but when it came to the final Meltdown, two teams produced the winning 'wiches," said teacher Cory Cooley.
"Brady Spaulding and Brodie Poultney spiced up the competition with a chicken, tomato and chipotle grilled cheese that melted the judges' hearts and warmed their tastes buds.
"Mason Gray and Levi Hext incorporated breakfast into their grilled masterpiece with scrambled eggs, a seasoned hashbrown and bacon, but the clincher that really sweetened the pot and the judges' palates was their secret ingredient…maple syrup!
"We all had a great time making an ole standby into a new masterpiece!" Cooley said.