FPHS students are state youth leaders in promoting health & preventing illness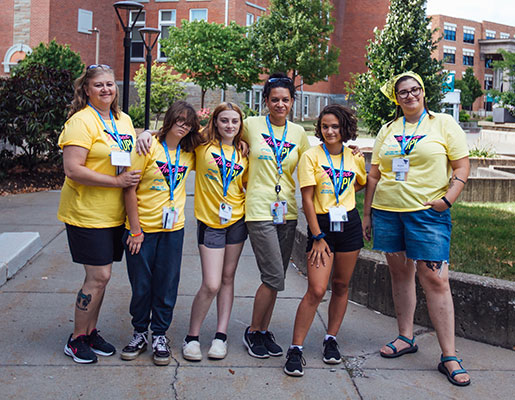 It wasn't a mountain they climbed, but the goal was just as impressive when FPHS students Trinity Belliveau, Kassidee Dodson and Kaitlyn Dodson summited at Keuka College to promote health and prevent illness.
They took part in the New York State Youth Summit Aug. 1-4 as members of the Advancing Tobacco-Free Communities (ATFC) of Hamilton, Fulton and Montgomery Counties Reality Check program.
Trinity, Kassidee and Kaitlyn joined with fellow youth leaders from across the state at the engaging and educational summit, which culminated in a community activism event anchored by the message, "We Have Seen Enough Tobacco!"
"It was inspirational to see all the work the older youth have done," Trinity said about the summit.
"The Youth Summit provides an opportunity for Reality Check youth leaders to come together to learn, plan and connect," said ATFC Coordinator for Catholic Charities Grace Dawson. "Trinity, Kassidee and Kaitlyn were among almost 200 teens and adults who worked together for a healthier New York State at this incredibly impactful event. These youth leaders take what they experience home with them, to plan for similar actions in their own communities."
Dawson accompanied the students at the summit along with Reality Check Coordinator Monica Tirado, and Luann Santabarbara, Catholic Charities of Fulton and Montgomery Counties substance abuse prevention counselor and Reality Check coordinator, who is based at Fort Plain High School.
Trinity and Kassidee are 8th grade students at Fort Plain Jr./Sr. High School, and Kaitlyn is in 11th grade. Their participation in the summit was funded by a Reality Check program grant.
View more photos in our Facebook album