FPHS science teacher blasts off into new career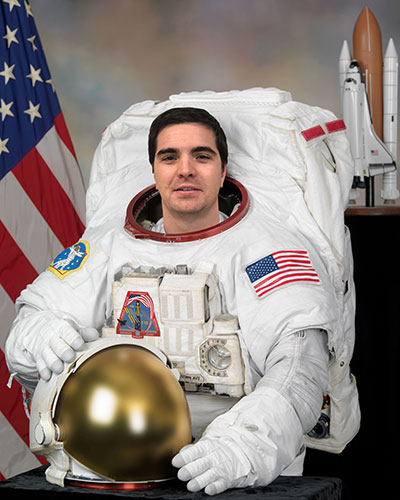 Fort Plain Jr./Sr. High School science teacher Patrick Petty will blast off into a new career later this month, after accepting a position as an education specialist with NASA. Petty, a Fort Plain Class of 2007 alumnus who's taught Hilltoppers since fall 2018, will help develop projects in NASA's NSPACE program. He'll work remotely at first, due to the pandemic, and in time will relocate to the Johnson Space Center in Houston, Texas.
Petty's new position is a dream job for an individual who is as much a dedicated, lifelong learner as an energetic and innovative educator. "I've always been interested in learning new things, in what's on the cutting edge in research and knowledge at NASA," he said.
"I've attended a number of NSPACE curriculum conferences in Houston, and last February, I was a presenter at a Space Exploration Educators Conference (SEEC) through NASA and Space Center Houston (the Johnson Space Center Visitor's Center)." In June 2019, Petty was one 50 educators nationwide to attended the LiftOff Summer Institute.
"As an education specialist with NASA's NSPACE program," Petty said, "I'll work with college and high school students to develop real-world projects with real-world applications that can ultimately be used on the International Space Station."
Past NSPACE projects have included the design and testing of hardware to be used on the Space Station, such as tools, and fabric that could be used for seat covers.
Petty speaks highly of his Fort Plain education. "My teachers instilled in us the power of dreams and the belief that with hard work and a dream, you can accomplish anything," he said. "Fort Plain truly is a special place; the community and the educators are top-notch.
"The passion, dedication and belief in their students create a learning environment where students can dare mighty things and accomplish even greater things," Petty continued. "For such a small town, we have had numerous individuals go on to accomplish amazing feats. There is talent in every zip code, and it is the job of educators to harness the talent and let it shine. In my mind, Fort Plain Central School does a wonderful job with that!"
"While we are sad to see him leave, we could not be more thrilled for Patrick," said Fort Plain High School Principal Dr. Deborah Larrabee. "He has brought back so much information from conferences and infused it into our classrooms. I am incredibly proud of him for securing his dream job!"
"What a great opportunity for Patrick!" said Fort Plain Superintendent of Schools John Bishop. "We are grateful for the years he spent serving the students of the Fort Plain school community. NASA is lucky to have him. Congratulations!"
During his time at Fort Plain, Petty frequently shared his experiences and knowledge with students beyond those in his own classroom. After attending the LiftOff Summer Institute, he arranged a video chat for 8th grade students with NASA engineer Jerry Woodfill. He also taught students in Lisa Petty's Life Skills class how to launch rockets outdoors as part of a science lesson.
"Patrick has always included my class in lessons, and he really connects with students at all levels," said Lisa Petty (who is also Patrick's mother). "I have gone to conferences with him, and he is so passionate about what he does. Our students definitely want to keep in touch!"
Judging from the past, space won't be the final frontier for NASA-related learning for Fort Plain students. Patrick Petty does indeed plan to stay connected with his alma mater to share learning opportunities and inspire local students. When asked for parting advice for them, Petty said, "Dream big, and don't be afraid to take a big leap. The world doesn't end at the four corners of town."
In the photo at top of page: Patrick Petty donned a space suit during a NASA conference for educators. His last day at Fort Plain is Jan. 15, but he'll continue to educate and inspire students in his new position with NASA's NSPACE program.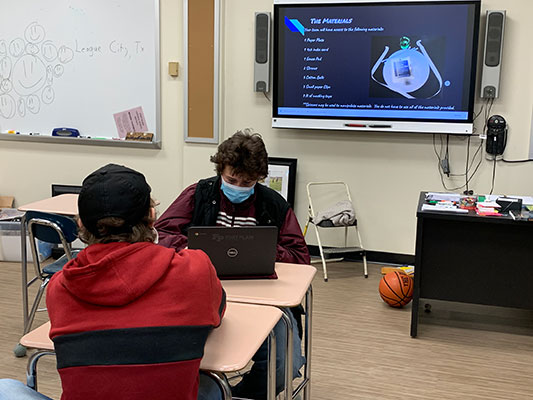 In the photo above, students in Patrick Petty and Dorene Goodwin's Living Environment class were challenged to design a shield to protect Earth from an asteroid. They are working with students in Indiana on the project.
In the photo below, Patrick Petty teaches Living Environment students  about the anatomy of a sheep's eye.