FPHS named a U.S News & World Report Best High School, ranked number one in region
Fort Plain Jr./Sr. High School has been named the region's top high school and among the state's and nation's Best High Schools by U.S. News & World Report, retaining an honor that recognizes student achievement and academic and program excellence.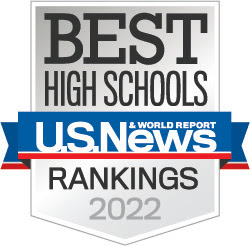 The Best High Schools 2022 Edition ranks nearly 18,000 schools by state and census-designated metropolitan areas with three or more high schools.
Fort Plain was ranked number one in the Amsterdam, N.Y., metro area, number 446 in New York State – in the top 34 percent, and number 4,978 in the nation – in the top 40 percent of public high schools in the U.S. Fort Plain has been highly ranked for several years.
Schools are ranked on their performance on state-required tests, graduation rate and how well they prepare students for college. Specifically, rankings are based on enrollment, student body demographics, location and school type, graduation rate, and results of state assessments and Advanced Placement and International Baccalaureate tests.
According to U.S. News & World Report, "The Best High Schools rankings, available online only, are produced in conjunction with RTI International, a global research firm. U.S. News doesn't collect data directly from high schools – all data comes directly from official third-party sources. U.S. News receives AP and IB data directly from the College Board and International Baccalaureate, respectively, for use in the rankings. The state assessment data and graduation rates are from each state, and other data comes from the U.S. Department of Education Common Core of Data."
Congratulations Hilltoppers!