FPHS is well represented at leadership conference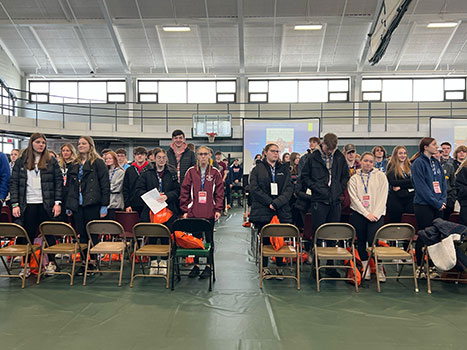 Fort Plain High School juniors Brady Keane, Jasmine Fonda, Courtney Euler, Marissa Wilder, Kaeden David, Monika Kulczynski, Coach John Fureno and Director of Student Engagement & Athletics David Bertram were among 300 student-athletes and coaches who participated in "Positive Leadership is Powerful Leadership: Diversity & Inclusion," the 2023 Student-Athlete Leadership Conference, at the Clark Sports Center and the National Baseball Hall of Fame and Museum on March 3 in Cooperstown.
They and their peers, representing nearly 50 school districts from throughout central New York, spent the day learning, exploring and building leadership skills.
According to Monica Wolfe, Cooperstown CSD leadership training for athletes advisor, "The leadership conference exists to foster a positive atmosphere and serve as a platform for student-athletes to recognize how leadership application in athletics affects their daily lives. In turn, that creates a ripple effect to be applied through the student-athlete's life and shared with their teams/teammates, their schools and their community."
The conference featured several workshops and speakers including SUNY Polytechnic Chief Diversity Officer and Title IX Coordinator Dr. Mark Montgomery, Hall of Fame President Josh Rawitch and Hall of Fame Director of Education Stephanie Hazzard.
Conference sponsors include the Center State Conference, Section III Athletics, NYSPHSAA, NYS AHPERD, Nimey's New Generation, Advantage Sport and Fitness, Community Bank, American Dairy Association, Gates Cole Insurance, USA Racing, NYPC/Upstate/Bocca, NYCM, Leatherstocking Region FCU, Chobani, Stewart's Shops, the Clark Sports Center and the National Baseball Hall of Fame and Museum.