FPHS alumnus presents about mushrooms, permaculture farming and more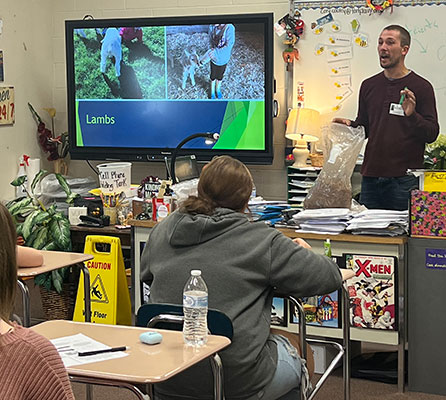 Brad Bowers, a Fort Plain alumnus (Class of 2008) and proprietor of Bowterra Farm on Calbet Road in Fort Plain, recently took time out to present to students in Cory Cooley's Food Science class, Dorene Goodwin's Life Skills class and others in the high school.
"Mr. Bower cultivates an amazing variety of mushrooms, among other products, and he shared the complex process with us," said Cooley. "In addition, we were informed about the versatility and benefits of mushrooms and permaculture farming.
"Mr. Bower donated several beautiful mushrooms, which we cooked into an herbed chicken pasta for the students to try. It was a great success and wonderful learning experience."
For more information about Bowterra Farms, visit their Facebook page.