FP senior leads Eyes For Hope donation drive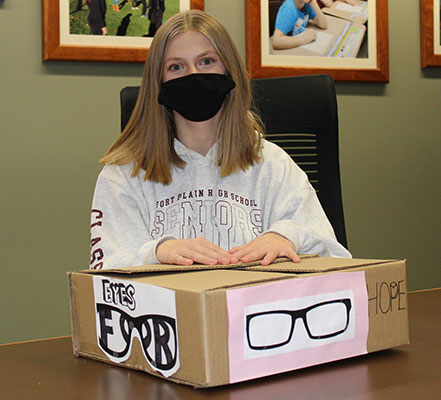 Sarah Paradiso enjoys helping others, so when she learned of an opportunity to partner with Eyes For Hope, she was right on board. The Fort Plain senior is leading a donation drive for eyeglasses for those in need.
Through March 3, donations of prescription and non-prescription eyeglasses in good condition can be left in a drop box at the Fort Plain Jr./Sr. High School main entrance during school hours, and at Center Street Station in Fort Plain and Sportee Designs in St. Johnsville, businesses that Sarah approached for support. Sportee Designs will also donate a pair of reading glasses for each pair of donated eyeglasses they receive.
Sarah is partnering to help Eyes For Hope with fellow high school students who are active in the Hugh O'Brian Youth (HOBY) organization.
"I went to a HOBY youth leadership weekend at SUNY Oneonta my sophomore year," Sarah said. "I spent the weekend making new friends and learning how to be a leader, as well as doing a community service project making blankets for organ donors and their families. Even after that weekend, we, in our area groups, have looked for ways to help out in our local community. This year we are partnering with Eyes for Hope."
At the close of the donation drive, Sarah will ship the boxes of eyeglasses to Eyes For Hope, which will in turn distribute them to individuals who need them.
"Good work Sarah!" said Fort Plain Superintendent John Bishop. "Sarah leads by example and continues to make positive contributions to the Fort Plain school community."
"The goal of my Eyes For Hope donation drive is to help make people feel they are making a difference, especially during a time when it's hard to have positive interactions," Sarah said. "There are easy ways to do it, [and this is a way] to try to reach out and do what you can."