Fort Plain bids farewell to retirees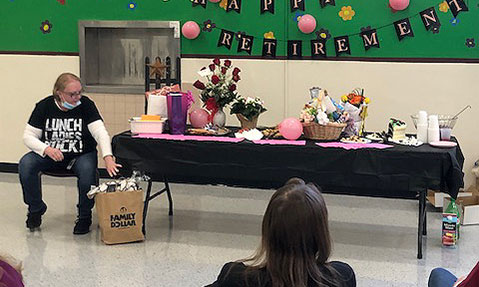 Fort Plain Central School bid farewell to three long-time employees who are retiring this week from decades of serving the district. Staff and students alike extended their congratulations and best wishes to John Fureno, Dawn Surnear and Philip Thibodeau.
John Fureno is retiring from teaching fifth grade math at Harry Hoag School. He has served Fort Plain for several decades as a general education teacher for multiple grades and as an athletic coach.
"John is a role model for us all, always smiling, always embracing the day with a positive, can-do attitude," said Lauren Crisman, Harry Hoag principal. "In addition to teaching, John has been a valuable member of the FPCSD athletics department. He has served as a multi-season coach, investing in our young athletes by coaching the sports of golf, bowling and baseball.
"Colleagues and students alike regard John as one of the most kind, endearing and caring faculty members to ever walk the hallways of Harry Hoag Elementary School. He will be deeply missed by all."
In bidding goodbye to a dedicated teacher, coach and colleague, Fort Plain wishes John all the best in his retirement.
Proud dad: John is at left in the photo below, taken at his son's graduation from Fort Plain.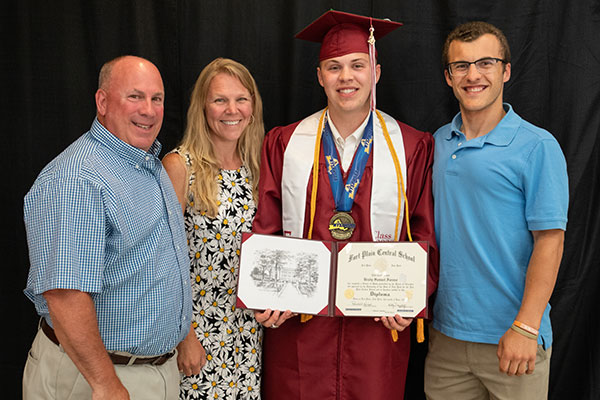 Dawn Surnear is retiring from her position as head cook in the Harry Hoag School kitchen. She began working for the district in 1999, and has served more than 21 dedicated years in the food service department. Dawn joined the Fort Plain staff because the school hours worked well with her own children's schedules, and because she enjoys cooking and working with children. She worked her way up from a part-time position to full time and then to head cook.
"Throughout her career, Dawn has enjoyed trying new recipes and helping kids to try new things," said Lauri Broady, school nutrition director. "She is known for her creativity and the kitchen decorations that have brought joy to students for many years. Dawn has always been a person to step up in a time of crisis, helping in the district in times of everything from floods to COVID. Her dedication to our school community has been admirable, and she will be missed by all.
"Please join us in wishing Dawn well in her well-deserved retirement and her plans to do more traveling, enjoy projects around the house, and continue her love of creating painting, crafts and gifts of all kinds," Broady added. "Congratulations, Dawn!"
In the photo below, Dawn on the job and at a retirement celebration. Note her shirt: Lunch Ladies Rock!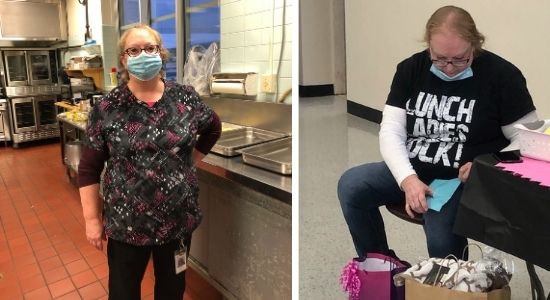 Philip Thibodeau is retiring from teaching health and physical education (PE) at the junior/senior high school. He has taught in the district for 24 years. In addition to teaching, Phil has coached the Hilltoppers in a variety of sports including varsity and modified girls basketball, junior varsity softball, modified soccer and modified, junior varsity and varsity baseball. In 2016, his coaching abilities helped the varsity baseball team become the Class D NYSPHSAA state champions.
"Phil is a quiet force, for good, as a teacher, a coach and a colleague," said Dr. Deborah Larrabee, Jr./Sr. High School principal. "His uncommon empathy for his students makes him an educator who will long be remembered by those whose lives he has touched.
"He is witty, quick to laugh, and just as quick to say the thing that will get others laughing – often at their own behaviors," Dr. Larrabee continued. "Phil graduated from Fort Plain in 1983, and returned to his alma mater to help the young people of the community he loves and dedicated himself to. He will be missed, but forever remembered. Thank you, Phil Thibodeau."
Charlie Karker, athletic director, has known Phil as a Fort Plain student and a colleague. He said, "Phil was known to be very diligent and determined to accomplish what needed to be done in order to become what he wanted to be as an adult and a human being. The same can be said of Phil, the athlete. He was very coachable, did what was asked, and led by example – qualities every coach wants from their athletes."
Karker quoted football coach, Lou Houltz, to summarize Phil's philosophy of teaching and coaching. "Ability is what you are capable of doing. Motivation determines what you do. Attitude determines how well you do it."
Phil helped foster students' abilities, attitudes and motivation to help them succeed in school, in sports and in life. Fort Plain will not be the same without him. Fort Plain wishes him a retirement filled with health, fun and happiness.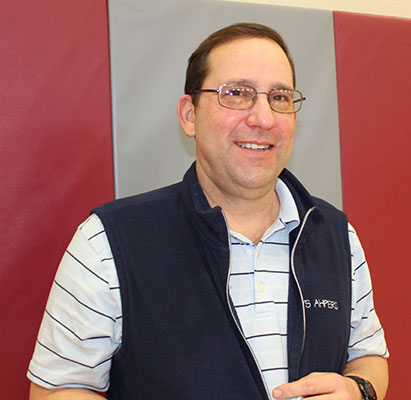 Farewell to Phil: Philip Thibodeau on the job at Fort Plain, photoed shortly before his retirement.