Forensics and Criminology class hosts SWAT demonstration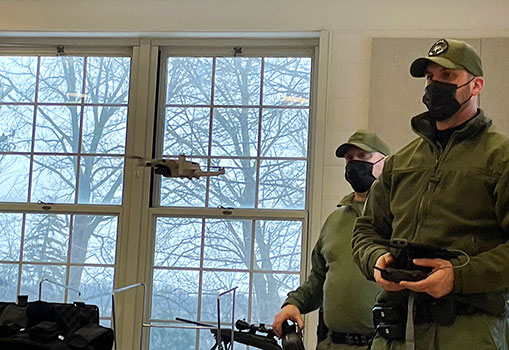 Fort Plain High School's forensics and criminology class hosted SWAT Commander Torrey Sitterly and the Herkimer SWAT team on Friday, Feb. 18, for a demonstration in the high school cafeteria.
"They were gracious enough to bring in some really cool gadgets, like thermal imaging drones and bomb-diffusing robots. Students also were able to try on and touch the very heavy gear that SWAT members use in the line of duty," said teacher Kevin Bogus.
"Officer James Burns discussed the importance of new technologies in police work and then took a lightweight, half-pound drone on an aerial spin for the students to see.
"Officer Robert Holt demonstrated the accuracy of his robot that uses four cameras to see by picking up a water bottle off a table with relative ease. It was a very fun experience."
Commander Sitterly is a Fort Plain alumnus.
Mr. Smith and Mr. Bogus and their class thank the Herkimer SWAT team for visiting Fort Plain and teaching them so much.