Fifth grade team climbs to new heights on annual ADK trek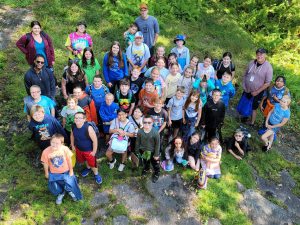 This September, Harry Hoag fifth graders took their turn with an annual outing to Kane Mountain/Kane Mountain Fire Observation Station in Caroga N.Y.  This nearly 50 year old district tradition was, by all accounts, a fan-favorite for the fifth graders new to the trek and for our teaching team who lead this hike each year.
"This is such a great way for the students to get to know each other outside of the classroom early in the school year," said fifth grade teacher Patrick Hanifin, who has been leading the outing for the past 25 years. "The experience is all about sharing the joys of hiking with the kids and being able to mix in history, geography and physical education."
Making memories for generations of Fort Plain students
While Hanifin said he just missed the opportunity to take the hike while a student at Fort Plain (the tradition didn't begin until he was in seventh grade), it is often mentioned fondly in graduation speeches and many of the parents and family members of current fifth graders also had their turn with the trip when they were Fort Plain students.
"It meant a lot to me to get to take this hike," said fifth grader Colton White. "My dad went when he was in fifth grade, but he said he was too scared to go up into the fire tower. He was impressed when he found out I had climbed up into the tower!"
Along with the fire tower, students mentioned the many different types of rocks they saw along the trail ("Some were shiny, some were smooth, some were rough but they all were so pretty," said Isabella Shibley), the great view ("It was awesome. I never saw a better view than when we went up the fire tower," said Preston Spraker) and the icing (or ice cream!) on the cake: a stop on the way back to school for ice cream at Grannies.
"A former fifth grade colleague, Barry Kahn, who was actually my fifth grade teacher, used to say that it's not just a great way to show the kids the many joys of hiking but to also show them how fortunate we are to live so close to the Adirondack Mountains," said Hanifin. "His hope, and mine, too, was that after we hiked some of the families would make a return trip to Kane Mountain or explore other hiking trails. It's certainly been my favorite field trip every year!"