Eighth graders video chat with NASA engineer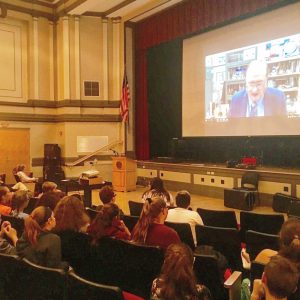 It's not every day you get to learn from a renowned NASA engineer in your science class, but the prestigious opportunity was bestowed upon the eighth graders of Fort Plain Jr./Sr. High School last week.
Students video chatted with NASA engineer Jerry Woodfill, who has been employed by NASA for over 50 years and designed the emergency alarm system for the Apollo Spacecraft. Woodfill shared his experiences about working on the Apollo 11 and Apollo 13 missions, particularly his efforts in successfully rescuing the crew of Apollo 13. He was one of the team members who was awarded the Presidential Medal of Freedom for his efforts.
Science teacher Patrick Petty, who attended a highly-competitive NASA institute for educators this summer, said classes have been learning about NASA, astronauts and the science skills that astronauts use, and how students can use them in their every day lives.
"We watched Apollo 13 in class last week and this week wrote letters to current astronauts," Petty said.