Canajoharie Moose Lodge donates $1,000 to Snack Bag program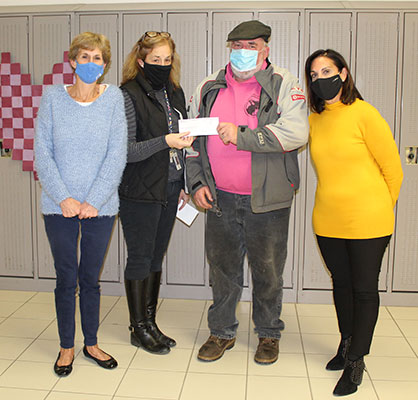 Each week at Snack Bag time, Lisa Petty's Life Skills classroom in Fort Plain Jr./Sr. High School is a whir of activity as students organize and count, assemble and package, and decorate dozens of bags of meals and snacks to be sent home on Thursdays and Fridays with students in need.
Thanks to the generosity of the Canajoharie Loyal Order of Moose Lodge, the Snack Bags will continue to head home each weekend. On December 9, Doc Davis of the Moose Lodge visited the high school to present a $1,000 donation check to Principal Dr. Deborah Larrabee, Life Skills teacher Lisa Petty and Life Skills teacher assistant Lori Shults. The Moose Lodge is a charity organization, and their donation to the Snack Bag program is just one of the ways they have shown their commitment to the community.
"We are so grateful to Doc Davis and the Moose for their generous support of the Snack Bag program," Dr. Larrabee said. "Their donation helps us continue a program that serves 19 high school students and 25 elementary school students, helping them with meals and snacks each weekend. The program is also an important instructional activity for our Life Skills class."
"Our students enjoy getting the Snack Bags weekly," said Harry Hoag Principal Lauren Crisman. "Each bag is decorated by a member of Mrs. Petty's class. The students look forward to seeing the unique designs, and they always show appreciation for the delivery. We are grateful for the partnership."
In addition to preparing the Snack Bags, the Life Skills class delivers them to the elementary school, walking them there when the weather permits.
Prior to the pandemic, the Life Skills students were assisted in preparing the Snack Bags in their classroom by visiting clients from Liberty ARC. Lori Shults, who previously worked with Liberty, praised the partnership. "Many of the clients formed friendships with the Life Skills students and would specifically ask for the Snack Bag assignment."
"Without the help from Liberty this year," said Lisa Petty, "our class has risen to the challenge on their own, filling 44 bags each week with tasty fare such as ravioli, cereal, applesauce and pudding, and fun items like goldfish crackers and cookies. We are very grateful to the Moose Lodge for their donation to help us continue the Snack Bag program."
In addition to recognizing the Canajoharie Moose, Dr. Larrabee noted that Fort Plain faculty and staff have also been very generous in assisting the Snack Bag program and thanked them for their ongoing support.
Photo information
In the photo at top: Doc Davis of the Canajoharie Moose Lodge (third from left) presents a $1,000 check to Life Skills teacher assistant Lori Shults, as Life Skills teacher Lisa Petty (far left) and Fort Plain Jr./Sr. High School Principal Dr. Deborah Larrabee (far right) look on during a Dec. 9, 2020 donation ceremony at the school.
In the photo below, Life Skills students and their teacher Lisa Petty pack Snack Bags in their classroom.